Oakville Real Estate Market Update - New for August 2023
Posted by Rayo Irani on Tuesday, August 15, 2023 at 9:45 AM
By Rayo Irani / August 15, 2023
Comment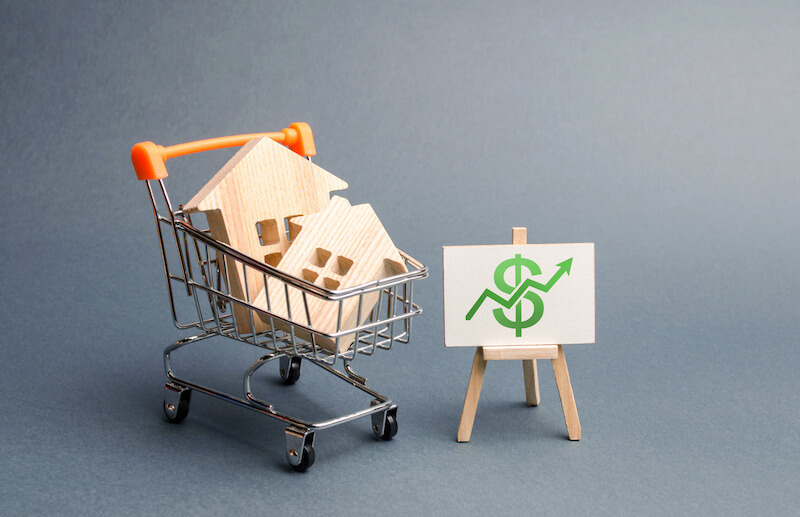 Oakville has a bustling real estate market that's growing with every passing year, so changes are constant. If you're planning to buy or sell a home soon, knowing the state of the local real estate market is essential. Is the city of Oakville currently in a buyer's market? A seller's market? Here, we will cover all the changes that occurred in the past month so you can better prepare yourself.
Oakville Market Update - July 2023
In July 2023, sale of properties was lower in the Halton area, the Peel Region and in surrounding areas compared to June 2023. That reflects lower average home prices compared to a month ago. When you compare year-over-year, Greater Toronto Area (GTA) home sales, new listings, and home prices were up in July 2023 in comparison to July 2022.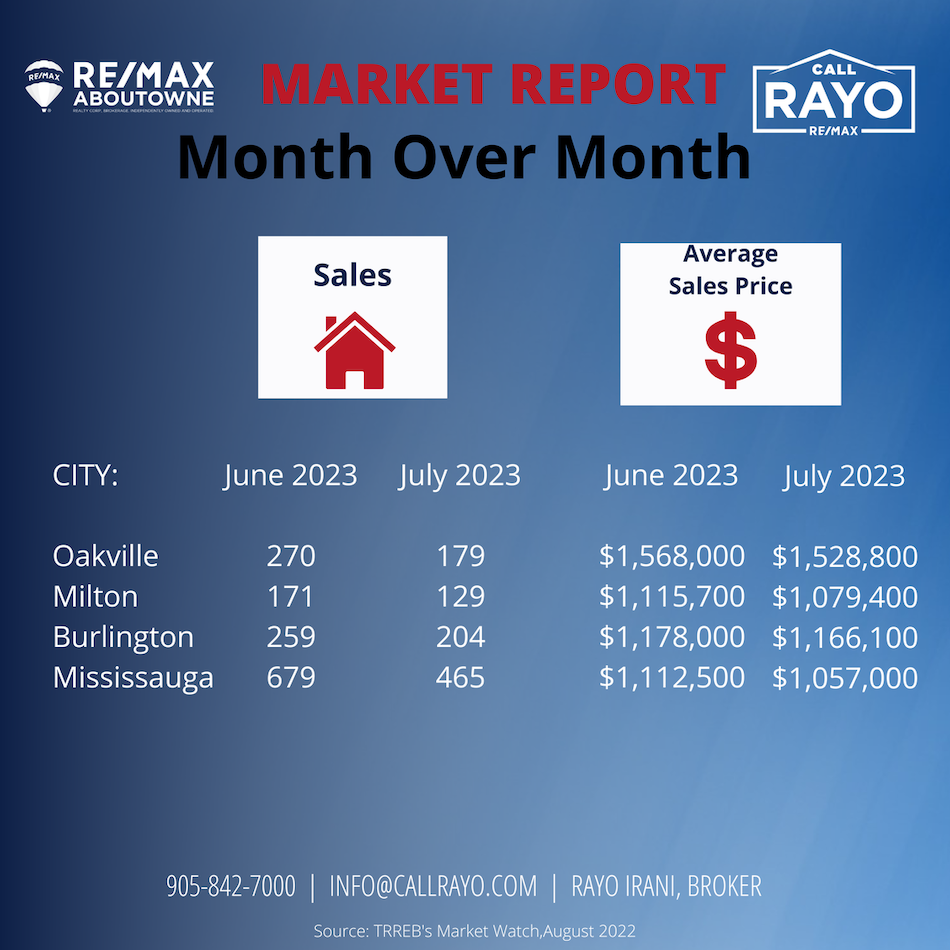 "Home sales continued to be above last year's levels in July, which suggests that many households have adjusted to higher borrowing costs. With that being said, it does appear that the sales momentum that we experienced earlier in the spring has stalled somewhat since the Bank of Canada restarted its rate-tightening cycle in June. Compounding the impact of higher rates has been the persistent lack of listings for people to purchase compared to previous years," said Toronto Regional Real Estate Board (TRREB) President Paul Baron.
Oakville Market Metrics
GTA REALTORS® reported 5,250 sales through TRREB's MLS® System in July 2023, representing a 7.8% increase compared to July 2022. Over the same period, new listings were also up, but by a greater annual rate of 11.5%.
On a seasonally adjusted monthly basis, the number of sales trended lower for the second straight month, whereas new listings trended upward. The seasonally adjusted average selling price edged lower while the MLS® HPI Composite benchmark edged higher.
"We continue to suffer from a misalignment in public policy as it relates to housing. The federal government is targeting record levels of immigration for the foreseeable future, but we have seen very little tangible progress in creating more ownership and rental housing to accommodate this growth. Population growth is imperative for economic development; however, this growth will be unsustainable if people can't find an affordable place to live. All three levels of government need to be on the same page to fix this problem," said TRREB CEO John DiMichele.
The important thing to monitor is the Inflation Rate; the next announcement is due on September 13, and the next BoC interest rate announcement is on September 6.
If you have questions or your friends and family have questions about the local real estate market, please Call Rayo Irani.
For informational purposes only. Always consult with a licensed real estate professional before proceeding with any real estate transaction.
Let Us Help Sell Your Home
Oakville Market Update - June 2023
In June, home sales and prices in Oakville increased compared to June 2022. Sales rose 19.0%, and the average price ticked up by 9.2% to $1,568,200. However, on a month-over-month basis, June saw a decline of 17.4% in sales, and the average price was fairly flat (up 0.9%), according to Toronto Regional Real Estate Board (TRREB). New listings dropped on a yearly and monthly basis by 2.5 and 1.6%, respectively.
Paul Baron, TRREB president, says, "The demand for ownership housing is stronger than last year, despite higher borrowing costs. With this said, home sales were hampered last month by uncertainty surrounding the Bank of Canada's outlook on inflation and interest rates. Furthermore, a persistent lack of inventory likely sidelined some willing buyers because they couldn't find a home meeting their needs. Simply put, you can't buy what is not available." Shortfalls in properties available on the market generated enough competition to prop up the average home price.
With June's dip in sales coming on the heels of the BoC's interest rate hike, experts await future BoC announcements on Canada's economy to gauge the market direction going forward. TRREB's chief market analyst, Jason Mercer, says all eyes are on interest rates for the rest of the year.
Do Buyers Still Want Variable-Rate Mortgages?
Homeowners looking for lower monthly mortgage payments have typically chosen variable-rate mortgages over other mortgage types. These mortgages are generally offered at a lower rate than fixed-term mortgages and carry the flexibility to switch to a fixed-rate mortgage at any time without incurring penalties.
With a variable-rate mortgage, the interest rate fluctuates based on changes to the lender's prime rate, which is determined by the Bank of Canada's (BoC) overnight rate. If the BoC overnight rate rises or falls, the prime rate follows suit and takes variable mortgage rates along with it.
With a fixed-rate mortgage, the interest rate is set for the duration of a mortgage term, no matter what happens to rates or the economy in general. Reports show that in the post-pandemic period, which saw a series of BoC rate hikes designed to fight inflation, more Canadian homeowners turned to fixed-rate mortgages. Statistics Canada reports that the percentage of variable-rate mortgages issued by chartered banks fell for the thirteenth straight month in April to just under 8.0%. That's down from 16.7% in January 2023 and significantly off the recent high of more than 56% in January 2022.
"During the pandemic, mortgage rates reached historic lows, dropping as low as 0.85% for a five-year variable rate and 1.39% for a five-year fixed rate. Variable rates became more popular than usual, accounting for over 20% of Ratehub.ca mortgage rate inquiries," says James Laird, co-CEO of Ratehub.ca and president of CanWise, a mortgage lender. "With the Bank of Canada rate hikes and an overall rise in mortgage rates, consumers have switched back to fixed rates, with 95% of rate inquiries to Ratehub.ca in 2023 being for fixed rates."
Still, it's mostly the short-term, fixed-rate mortgages (less than five years) that today's mortgage shoppers prefer. Laird explains, "Consumers are currently more interested than usual in short-term fixed rates because many experts are predicting that rates will drop in the coming years. Getting a short-term fixed-rate allows borrowers to take advantage of future lower rates sooner."
Experts don't expect this variable-to-fixed trend to last long. "By next year, I suspect [the popular choice] will be quite the opposite. Once the Bank of Canada hints that its next move is likely a cut, variable-rate uptake will climb," says mortgage strategist Robert McLister.
Stay Educated About the Local Market
Whether you're considering buying or selling a home in Oakville or one of the other great nearby cities, it's crucial to stay on top of current trends. Understanding the shifts in the local market can help you make informed choices about your next move when buying or selling a home.
For informational purposes only. Always consult with a licensed real estate professional before proceeding with any real estate transaction.