Is Oakville a Good Place to Live? 10 Reasons You'll Love Moving to Oakville [2023]
Posted by Rayo Irani on Wednesday, May 31, 2023 at 3:44:15 PM
By Rayo Irani / May 31, 2023
Comment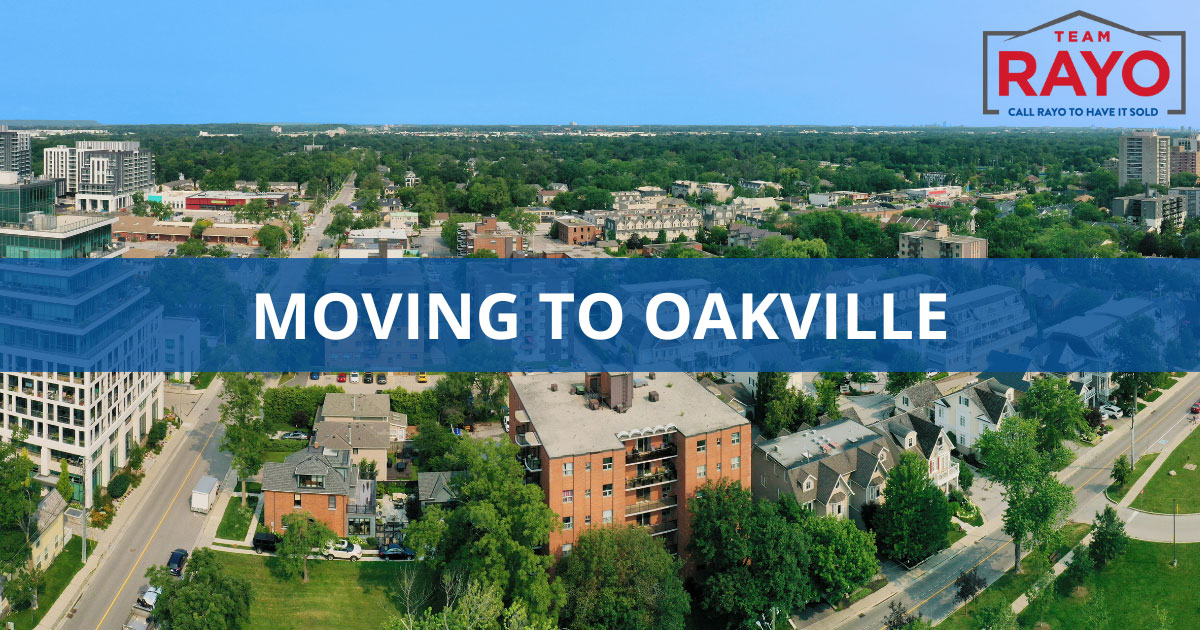 The town of Oakville is beautiful, vibrant, and offers a great quality of life for residents. It is located in Southern Ontario and is less than a 45-minute drive, or a GO Train ride, to the city of Toronto. There are many reasons to consider moving to Oakville if you're seeking a new place to call home, including picturesque scenery, a thriving arts and culture scene, and a strong sense of community.
10 Reasons to Move to Oakville
Proximity to Toronto and the metro area
Conveniently located near Niagara Falls, Niagara-on-the-Lake, Canada's Wonderland amusement park, Niagara wine region, and scenic CN Tower
Convenient public transportation options
A vibrant waterfront and green spaces
Many public and private schools
Beautiful neighbourhoods and homes
A thriving job market and industries
Plenty of recreational activities
Great shopping and dining opportunities
Many cultural events and festivals
Access to great healthcare, including the Oakville Trafalgar Memorial Hospital
Cost of Living in Oakville
Oakville's cost of living tends to be slightly higher than other areas in Ontario. Housing makes up the bulk of the expense, with home prices ranging from the $400,000s to the multi-millions for luxury homes. The median home price in the detached, single-family market hovers around $1.8 million, while condos sell for around $800,000 on average. Renters can expect to pay between $1,300 to $2,500 per month for one to three-bedroom units.
Utilities and childcare usually take up a large portion of the budget after housing costs. Utilities for a household of four can average $345 per month for heating gas, hydro, water, and hot water tank rentals. Internet plans typically average $60 per month, while phone plans hover around $70. Childcare expenses vary by age and whether the family opts for pre- and post-school care, with monthly costs averaging $1,000 per child.
The cost of transportation, groceries and dining out are worth being aware of as well. Gas prices in Oakville hover around $1.60 per litre or $150 per month, while monthly car insurance ranges from $125 to $200. Monthly groceries can amount to roughly $540 per person or $1,400 for a household of four, and dinner for two averages $100 per visit, not including alcohol and gratuity.
Oakville Job Market
Oakville is home to approximately 8,000 businesses, from large multinational corporations to small startups. Large companies with more than 2,000 employees include Ford Motor Company of Canada, Halton District School Board and Halton Healthcare. Those with more than 500 workers, such as Financial Services & Insurance (FCT), Hilti Canada Corporation and Kiewit Canada Group, are also located in Oakville.
Sagen is another well-known employer, with 1,800 workers in the private mortgage insurance industry. Sheridan College also has a large presence in the Oakville job market, with roughly 1,800 staff working on its campuses.
Other companies in the area include Siemens Canada Ltd., specializing in electronics and infrastructure; Aviva Canada, an insurance and financial services company; and Price Waterhouse Coopers, providing consulting and risk management services. Companies in Oakville with fewer than 200 employees, including Suncor Energy, Whole Foods Market and Takeda Pharmaceuticals, are also great options for employment.
Popular Industries in the Area
Oakville's economy supports several key sectors, from professional services and digital media to life sciences and advanced manufacturing. Proximity to Toronto as Canada's financial capital has fueled growth in these sectors, along with a highly-skilled workforce and excellent educational opportunities.
Professional services comprise the most prominent industries in Oakville, with approximately 30,000 workers in the engineering, finance, real estate and legal sub-sectors. The healthcare industry is also flourishing, thanks to Oakville Trafalgar Memorial Hospital and numerous research facilities in Ontario's life sciences corridor.
Oakville is also a creative film and digital media production hub. Sheridan College produces top talent in animation, applied computing and emerging technology. Graduates have held key positions with Pixar, DreamWorks, Disney and other world-class studios.
Advanced manufacturing is also popular, with roughly 8,000 highly-skilled workers in the automotive, aerospace, energy, and environmental sectors.
Things to Do in Oakville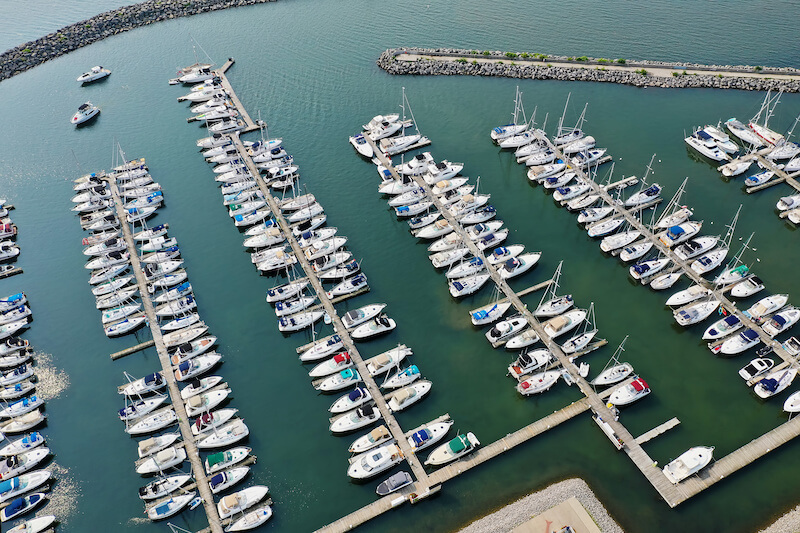 Oakville offers plenty of year-round activities for residents of all ages. There are numerous festivals throughout the year, such as the Downtown Oakville Jazz Festival, while the city's picturesque waterfront and trails are perfect for nature lovers. Foodies and art enthusiasts will also enjoy Oakville's many galleries, restaurants, and cafes.
Outdoor Activities
Oakville is situated on the Shores of Lake Ontario and has picturesque scenery. It features walking and biking trails and green spaces, including the scenic waterfront trail, Bronte Creek Provincial Park, and Sixteen Mile Creek. In fact, there are over 200 parks in Oakville and around 200 kilometres of trails, providing a wide range of recreational activities, including golf courses (some even offering golf course homes), sports facilities, and a vibrant waterfront area with marinas, shops and restaurants.
Winter activities in Oakville include snowshoeing, cross-country skiing, and ice-skating at over 15 outdoor rinks. Tobogganing is another popular pastime for kids and adults alike. Those who want to stay indoors can choose from the city's seven leisure centres, including Sixteen Mile Sports Complex and Glen Abbey Community Centre.
Local Attractions
Oakvillians are close to Toronto's top-rated attractions while still having numerous entertainment options in their backyard. Oakville has a thriving arts and culture scene and features numerous art galleries, theatres and cultural festivals throughout the year. The Oakville Centre for the Performing Arts presents over 70 performances annually, ranging from music and theatre to comedy and jazz. Other attractions include the Royal Botanical Gardens, Oakville Museum, and Centennial Square Galleries.
Shoppers can find something to fit their style and budget in Oakville Place, with over 100 stores and services. There are also many boutiques, indie shops, and markets located in neighbourhoods like Old Oakville and Kerr Village. Popular spots in these downtown areas include Dove + Arrow, My Back Shed Antiques, Wheels of Oakville and The Kind Matter Company.
Restaurants & Nightlife
Whether it's classic Italian fare, French bistros, or the best Asian cuisine, Oakville has something to satisfy any appetite. Popular restaurants include Hexagon and El Spero on the waterfront, while Kerr Village offers Jac's Bistro and Stoney's Bread Company. Other best restaurants in Oakville include Coriander Green, Trattoria Timone and the vegan-friendly Boon Cafe.
Much like its restaurant scene, Oakville's nightlife is diverse and lively. The Trafalgar, Uptown Core, and Holton Heights neighbourhoods offer several bars, pubs and lounges, including Pipes and Taps and Monaghan's. The Moonshine Cafe in Kerr Village is another highlight, offering live music seven nights a week, while The King's Arms in Old Oakville is the go-to social for billiards and pub games.
Oakville Climate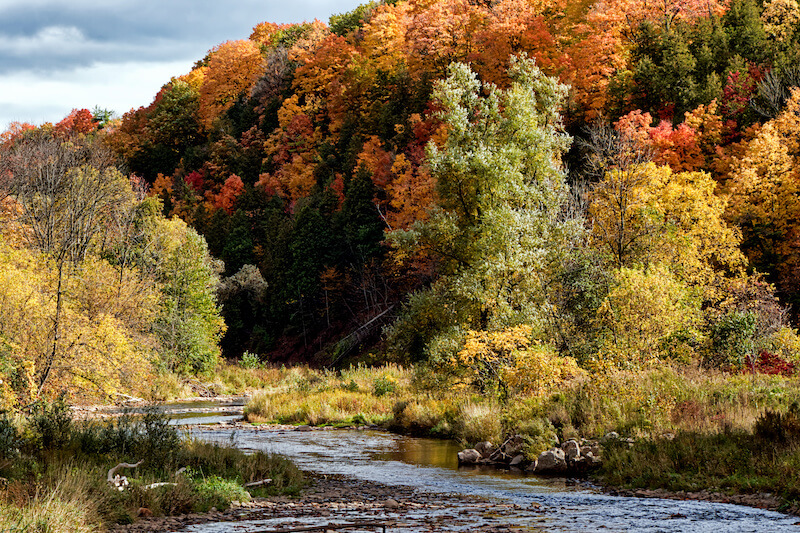 The Oakville climate offers four distinct seasons, with warm summers and cold winters. Temperatures usually range from -7°C to 25°C throughout the year, with occasional lows of -16°C and highs of 30°C.
Fall is a particularly beautiful time in Oakville, offering vibrant colours in the trees and temperatures ranging from 11°C to 18°C.
Winter months are cold and snow-filled, with overcast skies, chilly winds and few daylight hours. February sees the highest average snowfall of eight centimetres, with temperatures ranging from -6°C to 4°C.
Spring is a welcome season, milder than winter but still cool with some rain. Temperatures range from daily lows of 1°C to highs of 18°C, and April sees an average of 3.3 centimetres of rain.
Summers are comfortable, with temperatures averaging 23°C during the day and lows of 16°C at night. Late June to early September is a great time to reside in Oakville, as sunny days last longer and are more common than in other parts of the year. July is the hottest month, with average highs around 25°C and evenings dipping to 18°C.
Traffic in Oakville
Transportation options are plentiful in Oakville, offering ease of access for commuters. The Queen Elizabeth Way (QEW) is a major road connecting Oakville with Toronto and other cities in the province. It merges with Highway 403 near the western end of Mississauga and Oakville's eastern end. The 403 bisects Oakville and runs through the centre of town, while Highway 407 runs along the northern border, and Lakeshore Road spans the waterfront. The 407 is the only express toll route in the region and requires a transponder for use. The standard speed limit is 100 km/h when driving on highways and 50 km/h when driving on city streets.
Many Oakville residents commute to Toronto and other cities in the metro area by car. Drivers should be aware of heavily congested roads during peak hours, especially on the QEW and the 400 highways. It's always best to check for closures, slowdowns and potential standstills on Google Maps or the Ontario 511 app. Another useful tool is Green P Mobile Pay, allowing users to pay for parking in the Toronto area directly from their phones.
Living in Oakville also means dealing with changing weather conditions. Drivers should be especially vigilant during the winter months, as the city can receive around 80 centimetres of snow between December and March. Investing in winter tires for enhanced traction and leaving plenty of space between cars are great ways to stay safe on Oakville roads in the winter.
Alternative Routes
Most highways in the Greater Toronto Area experience stop-and-go traffic during rush hour. When possible, drivers should avoid the westbound QEW west of Ford Drive between 4 PM and 6:30 PM. Traffic on the QEW may come to a standstill due to lane reductions and closures resulting from a widening initiative near the 403 junction. Exiting the freeway at Ford Drive and taking parallel roads such as Cornwall, Speers, and Lakeshore can be a good alternative when commuting to Oakville.
Oakville Public Transportation
Oakville Transit consists of 89 low-floor, fully accessible buses that run along 34 different routes throughout the city. Single-fare tickets cost $4, and reduced fares are available with a PRESTO card. Children and teenagers under 19, plus seniors over 65, are eligible for free rides with a single PRESTO card. The city also offers a para-transit service called Oakville care-A-van for those who are unable to access regular bus services due to physical impairment.
Oakville is also served by Via Rail and GO Transit, with two GO Transit regional train stations located on the Lakeshore West line. The Bronte station is on the west of town near Wyecroft Road, and the Oakville station is on the east side near Oakville Place. Both offer weekday and weekend service to Toronto, Hamilton and other cities in the Greater Toronto Area.
Fares vary based on the distance travelled but typically range from $8 to $10 with a PRESTO card when travelling to Union Station in Toronto. GO service can be an excellent option for commuters seeking an alternative to driving, as travel times en route to Toronto typically fall between 30 and 40 minutes.
Ride shares, such as Uber and Lift, are also widely available in Oakville.
Schools in Oakville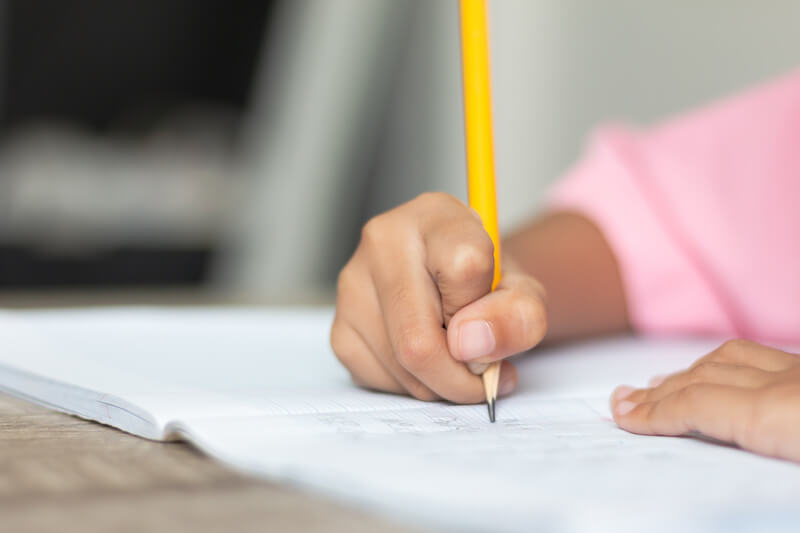 Oakville operates six public high schools and 27 public grade schools, all of which are part of the Halton District School Board. The board serves approximately 50,000 students across the Oakville, Burlington, Halton Hills and Milton municipalities. Notable schools include Joshua Creek, Forest Trail, Pilgrim Wood and Sunningdale, serving grades JK-8. High schools include Iroquois Ridge, Abbey Park and Oakville Trafalgar. Additionally, Oakville residents have access to several post-secondary institutions, such as the University of Toronto and Sheridan College.
The Halton Catholic District School Board oversees 58 private schools in the area, 19 of which are located in Oakville. There are also several French immersion institutes operated by the Conseil Scolaire Viamonde and Conseil Scolaire Catholique Centre-Sud districts. Private schools in Oakville include St. Mildred's-Lightbourn School and Toronto International Academy. Another option is Al Falah Islamic, offering secular and faith-based education.
Find Your Home in Oakville
Oakville offers a chance to experience a charming blend of cosmopolitan living and scenic natural beauty. Its public transit system, thriving job market, and friendly neighbourhoods make it a particularly attractive locale for anyone seeking a change of pace. Oakville's rich cultural scene and abundance of recreational activities provide a high quality of life that you won't find anywhere else. If you're considering a move, moving to Oakville could be your gateway to a vibrant lifestyle.
Thinking about moving to Oakville? Call Rayo Irani at RE/MAX Aboutowne at (647) 802-2020 to reach a local real estate agent who can help you find your Oakville dream home.