5 Most Walkable Neighbourhoods in Oakville ON: No Cars Needed in These Communities
Posted by Rayo Irani on Tuesday, September 26, 2023 at 12:10:50 PM
By Rayo Irani / September 26, 2023
Comment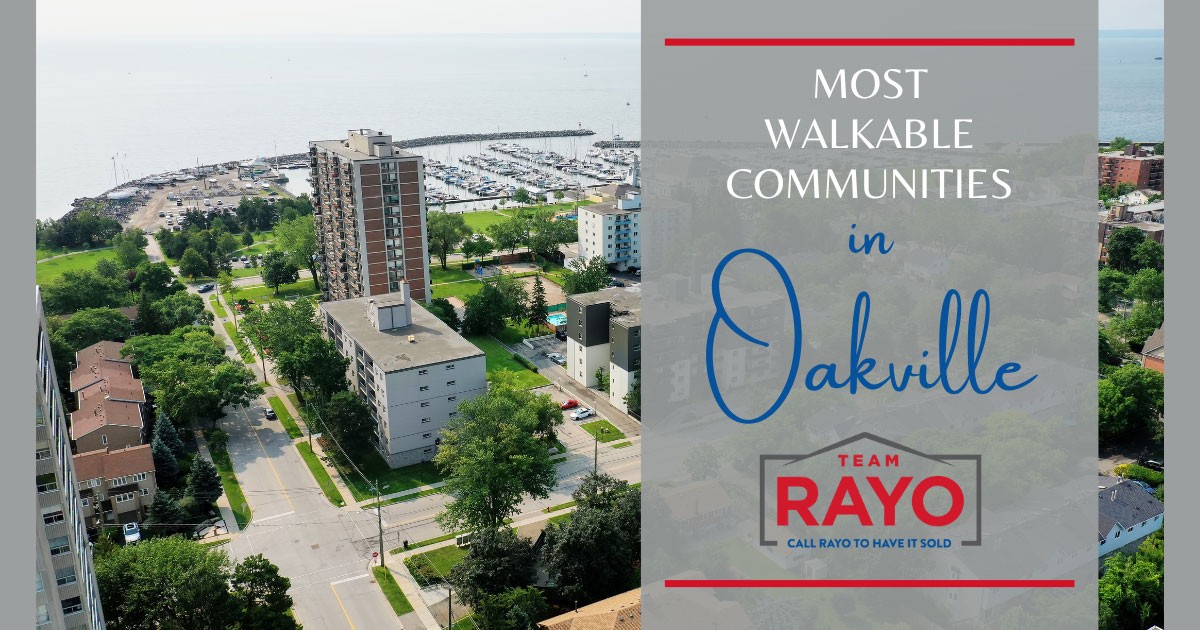 Nestled along the picturesque shores of Lake Ontario, the city of Oakville boasts a selection of neighbourhoods that not only embrace the beauty of the area but also prioritize the convenience and simplicity of a pedestrian-friendly lifestyle. The most walkable neighbourhoods in Oakville offer residents easy access to parks, shops, restaurants, and public transportation. Whether you're a long-time resident or considering a move to Oakville, its walkable neighbourhoods are sure to capture your interest and inspire your next steps in finding the ideal place to call home.
Kerr Village
Located west of Sixteen Mile Creek, Kerr Village is home to a lively array of local shops, restaurants, and entertainment venues centred around Kerr Street. It offers waterfront access to Lake Ontario, with Tannery Park giving residents vistas of the Oakville Lighthouse and the Toronto skyline. The neighbourhood is also known for its abundance of green spaces, notably Trafalgar Park, and its many recreational facilities.
As a highly walkable neighbourhood, the Kerr Street strip offers abundant options for shopping, dining, and entertainment. Local haunts like Moonshine Cafe and Less Than Level offer live music and comfort food seven nights a week. Foodies flock to Kerr Street Cafe and Stoney's Bread Company for brunch, while The Mermaid serves up fresh seafood for lunch and dinner. The neighbourhood is also home to the annual Kerrfest, featuring music performances and street vendors for children.
Homes in Kerr Village range from luxury condo high-rises and townhouse communities to traditional detached homes in Cape Cod and Craftsman styles. Home prices start at around $500,000 for a low-floor, one-bedroom condo and range up to $4 million for a contemporary home with four bedrooms.
Kerr Village Amenities
Dove + Arrow
Jac's Bistro
Anytime Fitness
Film.Ca Cinemas
Wheels of Oakville
Organic Garage
Waterworks Park
Oakville Public School
Downtown Oakville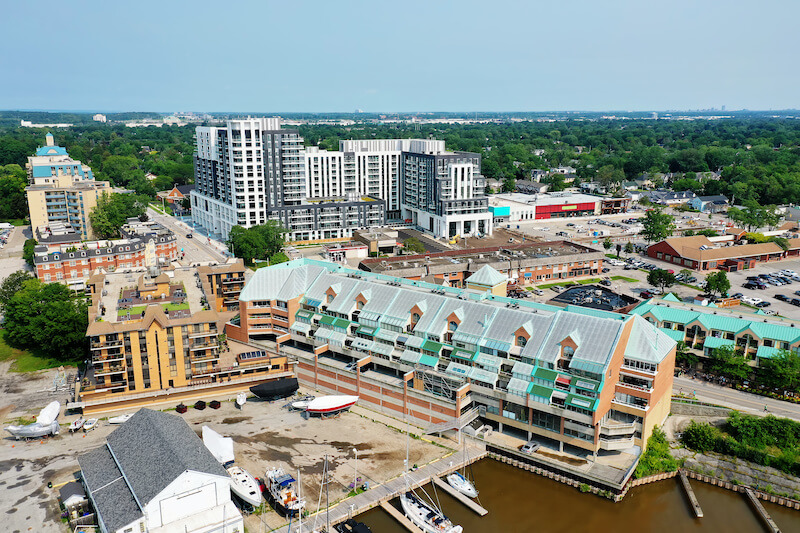 Oakville's downtown is nestled on the shores of Lake Ontario, just east of Sixteen Mile Creek. The neighbourhood has a rich history dating back to the early 1800s, with heritage homes that include Georgian, Victorian, and Neoclassical Revival styles. Its commercial corridor, Lakeshore Road, is lined with some of the best restaurants, shops, and cafés in town. There are also numerous parks, art galleries, and nightlife options to explore on foot.
A major hub for community events, Downtown Oakville is home to the popular Midnight Madness and Jazz festivals each summer. Locals can also walk to theOakville Centre for the Performing Arts, which hosts roughly 300 shows each year. Neighbourhood hotspots include Ce Soir Brasserie for fine dining, Boa Boutique for unique fashion finds, and The King's Arms for live music and cocktails. Recreational amenities such as Lakeside Park and Oakville Club are also just a few blocks away.
Homes in Downtown Oakville range from condos, townhouses, and single-family structures to luxurious custom builds. Buyers can find waterfront homes on the lake or high-floor condos with views of the harbour. Prices vary widely depending on location and type of home, with starter condos listed at around $800,000 and detached four-bedroom homes going for upwards of $5 million.
Downtown Oakville Amenities
Oakville Museum
SPINCO Fitness
Figaro Coffee House
Oakville Curling Club
Colossus Greek Taverna
Whole Foods Market
New Central School
Uptown Core
Uptown Core extends southward from the intersection of Dundas Street and Trafalgar Road in Oakville's northeast corner. Developed in the 2000s, it's one of the newest walkable neighbourhoods in Oakville, characterized by its density of luxury condo towers and stacked townhomes. Just outside the residential core, locals can walk to plenty of shops and restaurants, with playgrounds, dog runs, and water features available at the community's urban green space, Memorial Park.
Popular local amenities in Uptown Core include Orangetheory Fitness, The Keg Steakhouse, and Marylebone Cafe and Creamery. There are also several retail options nearby, including a Walmart Supercentre and a Real Canadian Superstore. Some students in the area attend St. Andrew Catholic Elementary School and Sheridan College, both of which are located south of the community. Other local attractions include The Pipes and Taps Pub, State & Main Restaurant, and Punjabi By Nature.
There are few detached housing options in Uptown Core real estate, but buyers can find luxury condos and attached townhouses below the $1 million mark. These include two-bedroom residences that are often seen as an entry point for those venturing into the Oakville real estate market. Prices start at around $600,000 for a 600-square-foot condo and range up to $1.3 million for three bedrooms.
Uptown Core Amenities
Odoo Cafe
In A Bowl
Ritorno Restaurant
Blend Hair Studio
Windfield Parkette
Oak Park Shopping Centre
Post's Corners Public School
Bronte Village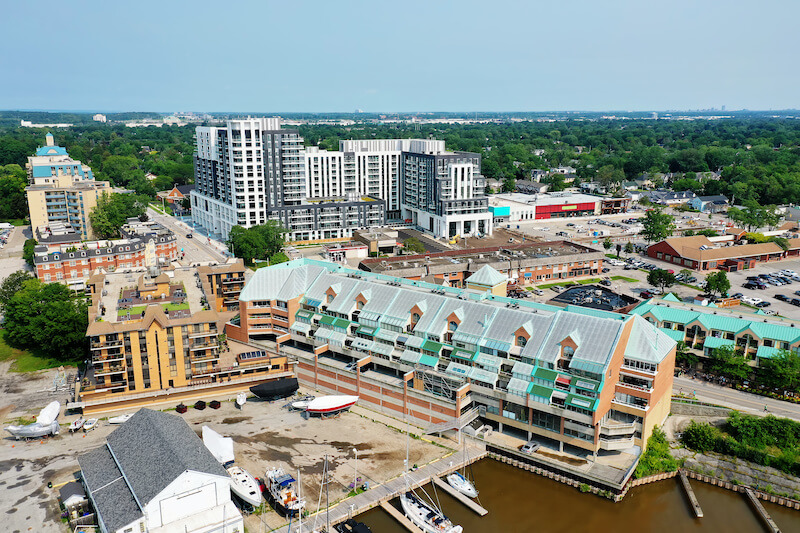 Bronte Village boasts the most direct public access to Lake Ontario, featuring a busy harbour, marina, and beach. Located in Oakville's southwest corner, its walkability makes it a great option for those who appreciate easy access to amenities and recreation. Just north of the harbour, the downtown district is packed with local restaurants, cafés, and shops, with green spaces, schools, and athletic fields also nearby—no wonder why it's considered one of Oakville's best neighbourhoods.
Top attractions in Bronte Village include Denninger's and Farm Boy for gourmet and organic groceries, Firehall for late-night grub and drinks, and the Bronte Boathouse for waterfront dining. The neighbourhood also hosts a variety of festivals and events throughout the year, including block parties and a summer concert series. Nearby recreational destinations such as Bronte Creek Provincial Park and Queen Elizabeth Park Community Centre offer a variety of activities from swimming and skating to camping and hiking.
Real estate in Bronte offers a mix of old and new builds, including luxury condos, semi-attached townhomes, and single-family detached properties. Prices typically start at around $550,000 for a one-bedroom condo and go up to $4 million for a stately home with four bedrooms.
Bronte Village Amenities
Hub Fitness
Plank Restobar
Cucci Fine Italian
Por Vida Mezcal & Mexican
Eastview Public School
St. Dominic Catholic Elementary
Bronte Heritage Waterfront Park
Oakvillage
Developed by Minto Group and opened in 2019, the highly walkable Oakvillage is one of the best master-planned communities in Oakville. Located near Dundas Street and Trafalgar Road in the city's northeast corner, the community is characterized by modern townhouses, landscaped parks, and 1.5 kilometres of trails. On-site amenities include a fitness centre and private roof decks in select homes, with ground-floor commercial space providing additional services to residents.
Green spaces in Oakvillage include Athabasca Pond and William Rose Park, which offers athletic courts, a playground, a splash pad, and an in-ground skate park. Other neighbourhood amenities can be found across Dundas Street, including a Longo's market and a Starbucks. Residents can walk here in ten minutes, where they can access massage parlours, beauty salons, pet groomers, and more. The strip mall is also home to casual restaurants like Turtle Jack's, Pür & Simple, and Mye Japanese.
Oakvillage offers a range of high-efficiency townhomes built with sustainable materials, along with nine-foot ceilings, quartz countertops, and outdoor space, with some units backing onto the pond. Floor plans vary from one- to three-bedroom configurations, ranging in size from 530 to 1,400 square feet. Prices generally fall between $700,000 and $1.5 million.
Oakvillage Amenities
Bank of Montreal
Canadian Tire
Live Strong Clinic
Hero Certified Burgers
Be In Motion Physiotherapy
Kids & Company Daycare
Oakpark Pet Hospital
Enjoy Walking in Your Oakville Neighbourhood
Oakville, ON, offers some of the most walkable neighbourhoods in the Greater Toronto Area. From the charming streets of Downtown Oakville with its historic charm to the vibrant and convenient Uptown Core, residents enjoy pedestrian-friendly communities catering to their daily needs. With an array of parks, shops, dining options, and excellent public transportation links, these neighbourhoods promote a more sustainable and community-oriented lifestyle. So, if you value the simple pleasure of a stroll through your neighbourhood, consider Oakville as your next place to call home.
Thinking about moving to Oakville? Call Rayo Irani at RE/MAX Aboutowne at (647) 802-2020 to reach a local real estate agent who can help you find your Oakville dream home.