Oakville Dog Parks: How Dog-Friendly is Oakville, ON?
Posted by Rayo Irani on Thursday, November 2, 2023 at 2:36:16 PM
By Rayo Irani / November 2, 2023
Comment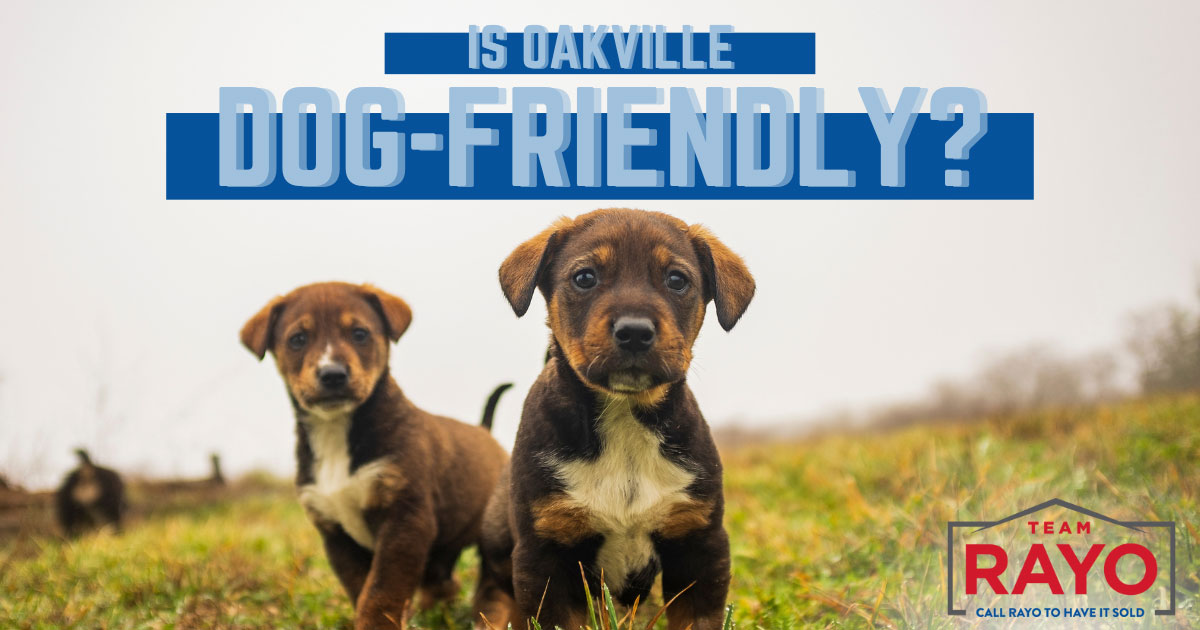 Welcome to the world of things to do with your dog in Oakville, Ontario, where wagging tails and boundless excitement reign supreme. If you're a dog owner, you've stumbled upon the perfect guide to explore the "pawsibilities" in this charming community. From off-leash dog parks to dog-friendly restaurants and stores, the city of Oakville offers a pet-friendly haven for you and your four-legged companion.
Best Neighborhood Dog Parks in Oakville
Oakville, Ontario, is a dog-friendly area offering excellent dog parks for dogs and pet owners to enjoy. These parks provide pets with a fun place to play, exercise, and socialize. Most dog parks in Oakville are free and offer a wide range of fun amenities that encourage pets and their owners to get outside and play.
Oak Park Dog Park
Oak Park Dog Park is part of the larger Oak Park Memorial Park and features two large, fenced sections.
One fenced-in area is for smaller dogs, and the other is for larger dogs. The park is free, and visitors with pets may park near the gates closer to Hayes Blvd., although plenty of parking is available on both sides of the park.
Memorial Park also has several walking trails and a beautiful pond, and pets are welcome to play here as long as they are on a leash. There is also a playground, a basketball court, and public restrooms.
Oak Park Dog Park Additional Information
Address: 2303 Central Park Dr, Oakville, ON L6H 0E5
Hours: 6 a.m. to 10 p.m.
Shell Dog Park
Shell Dog Park is between Burlington and Oakville. This leash-free dog park is fully fenced with two separate sections to keep large and small breeds separate. The park also features picnic tables, doggie bags, waste bins for easy cleanup, and watering stations to help quench the thirst of thirsty pooches.
Visitors will also find easy access to Sheldon Creek Park and the beautiful waterfront, where dogs can roam as long as they are on a leash. There are plenty of picnic tables in Shell Dog Park so owners can sit and relax while their dogs play. It's also close to Shell Skateboard Park, and there is also a park and a tennis court next door, along with lots of beautiful walking trails.
Shell Dog Park Additional Information
Address: 3307 Lakeshore Rd W, Oakville, ON L6L 6S6
Hours: 6 a.m. to 10 p.m.
Bronte Creek Provincial Park
Bronte Creek Provincial Park has two separate off-leash areas for dogs to roam and play.
This park has acres of beautiful, wooded walking trails for off-leash enjoyment with river access. There are also washrooms and water available for dogs during the spring, summer, and fall seasons. Visitors may access the park from the campground at Bronte Road and Upper Middle Road. The day entrance is accessible on Burloak Drive.
Visitors must pay an entrance fee to get into the park, but there is plenty to do here. Explore the Playbarn, play a round of disc golf, or explore the Nature Centre to get the most out of your money and the day. Other popular activities in Bronte Creek Provincial Park include fishing, swimming, camping, trail hiking, and cross-country skiing during the winter.
Bronte Creek Provincial Park Additional Information
Address: 1219 Burloak Dr, Oakville, ON L6M 4J7
Hours: Dawn to dusk
Palermo Park
Palermo Park is located north of Highway 5 and east of Bronte Road and features 18 acres of land.
The large, leash-free dog play area is well-maintained and has plenty of seating for pet owners to kick back and relax while their pets play and socialize. There is also a nice walking trail surrounding the park, and it also has two softball diamonds that are popular during the warmer seasons. The fenced-in area designated for dogs is a great space for them to run around off-leash. There is no water station at this park, so all dog owners are encouraged to bring their own water and a bowl to keep pets hydrated. A separate entrance makes it easy for dogs and their owners to enter the dog park area.
Palermo Park Additional Information
Address: 2345 Dundas St W, Oakville, ON L6M 4J3
Hours: 8 a.m. to 11 p.m.
Post Park
Post Park has a leash-free, fully-fenced zone for dogs with a separate section between large and small breeds.
This beautiful park is surrounded by mature trees, providing plenty of shade for dogs during the spring and summer months. The park also features comfortable benches and picnic tables for a casual afternoon lunch, as well as garbage bins and plenty of parking. There is also an on-site water station to help keep pets hydrated.
Aside from the roomy dog park area, Post Park also has a soccer field, a nice walking trail, and a playground area to burn off energy. The park has a soft, grassy ground cover and mulched areas so dogs' paws stay comfortable and don't get too hot.
Post Park Additional Information
Address: 291 Donessle Dr, Oakville, ON L6J 3Y8
Hours: 8 a.m. to 10 p.m.
Dog-Friendly Activities in Oakville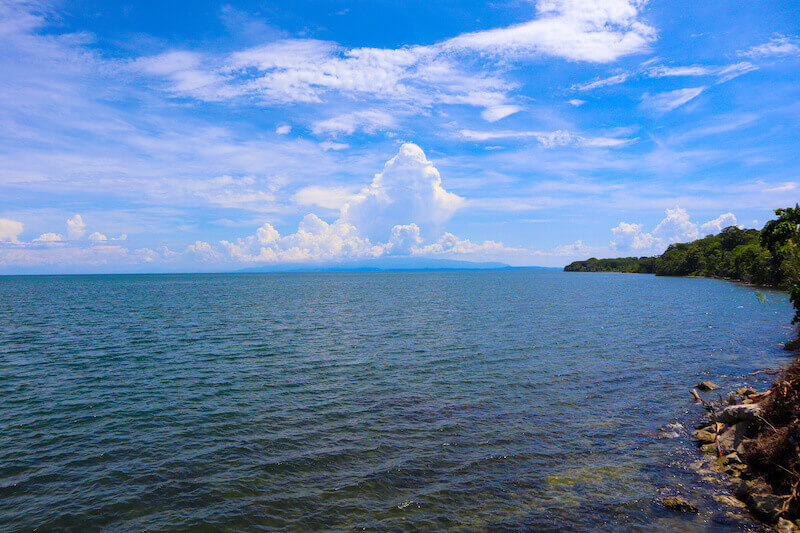 Oakville and the surrounding areas have plenty of great dog-friendly activities for pets and owners alike.
Aside from the many dog parks, the Dundas Valley Conservation Area in the nearby city of Hamilton is a great place to take your dog on a day trip. This trail system consists of 40 kilometres on the Niagara Escarpment, which connects to the Bruce Trail. Leashed dogs are welcome to join their owners as they walk the trails, as long as owners clean up after them.
Coronation Park, one of the best parks in Oakville, is another great place to walk your dog on a leash. Dogs are also welcome at the Coronation Park rock beach.
Also in Hamilton is the Spencer Gorge Wilderness Area, a pet-friendly place that overlooks the former town of Dundas. This southern-facing edge of the Niagara Escarpment has two creeks that flow through to form a Y-shaped gorge. All leashed dogs are welcome here, making it a wonderful place to enjoy outdoor activities with furry family members.
Heritage Green Community Dog Park is also located in Hamilton and offers a large, grassy, fenced-in area for dogs to enjoy. This large dog park has a pet waste station located along the fence, and owners are required to clean up after their pets. The park also offers benches as a nice resting spot for owners to sit back and relax.
The Corporal Nathan Cirillo Leash Free Area, formerly known as the Ancaster Leash Free Dog Park, is located at Cinema Park in Hamilton's Meadowlands neighborhood. This natural oasis is completely fenced in with a double-gated entry and plenty of benches. A beautiful stream and walking trails are found within its borders, and it's open all year round to visitors throughout the Oakville and Hamilton areas.
Dog-Friendly Restaurants in Oakville
From breweries to dinner establishments, there is a myriad of great, dog-friendly restaurants in Oakville and beyond.
The Mermaid is a locally operated seafood market and restaurant in Oakville that allows dogs to sit outside with their owners at the outdoor patio tables. This restaurant sells delicious fare, including Alaskan King Crab legs, poached salmon, and lobster tails. Regular patrons rave about their Lobster Steamer Dinner.
Beertown Public House is a fun, dog-friendly bar and restaurant in Oakville with outdoor seating during the summer. There are also lots of shaded tables for pets and a modern beer bar for guests. This pub sells some of the best craft beers made throughout the Ontario area, and they sell delicious noshes like tuna flatbread, wonton nachos, and tuna tacos.
Coffee and tea lovers will enjoy a visit to Munchies Coffee House and BARKery. This cozy coffee shop serves breakfast sandwiches, pastries, bagels, waffles, and more. Dogs are welcome here, and the restaurant also makes their own in-house dog treats to share with furry friends.
Dog-Friendly Shopping in Oakville
Oakville is home to plenty of awesome, dog-friendly shopping venues.
JYSK, a pet-friendly home furnishings store in Oakville, features a unique selection of global goods with Scandinavian roots.
Winners & HomeSense is another pet-friendly department store located in Oakville. Dogs are welcome to come inside, but they must remain on a leash.
Dog owners in Oakville will love Canadian Tire, which sells everything from car tires and automotive parts to home goods, appliances, and pet treats. Whether or not you can bring your dog inside varies by the individual store, so call ahead if you want to bring your dog shopping.
Dog owners with a green thumb may like visiting TERRA, a pet-friendly garden centre in Hamilton. The store sells a variety of plants and gardening tools, among other goods, and the store is dog-friendly. Some shoppers may get a special treat for their dogs handed out by employees, and the store also provides water bowls for thirsty pooches.
Crafty pet owners can enjoy bringing their on-leash pooches to Michaels. This pet-friendly chain sells an assortment of arts and crafts items like fabric, paints, and canvases, as well as home decor and seasonal items. As with Canadian Tire, dog policies may vary by location.
Finally, the Bone & Biscuit Co. sells an array of pet goods like food, treats, toys, bedding, and much more. Pets are welcome here, and the Oakville location also offers several services for pets, including loads of fresh-baked treats and healthy, freshly made raw pet food selections.
Pet-Friendly Hotels in Oakville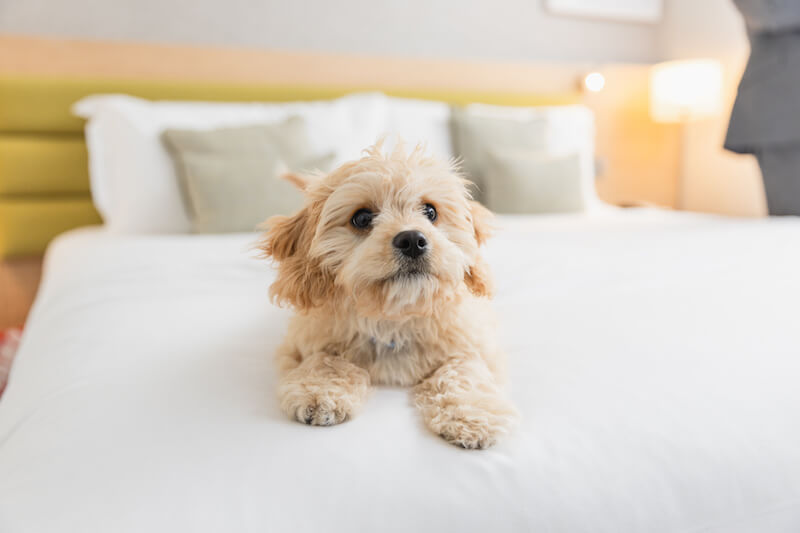 Since Oakville is a pet-friendly place, it's not surprising that there are plenty of dog-friendly hotels here.
At Holiday Inn Oakville Centre, dogs and cats may stay for an additional fee, and well-behaved pets can stay in the room unattended for a short period of time. Grassy relief areas are also available on the property.
Up to three pets of any size are welcome at Waterfront Hotel Downtown Burlington for an extra fee. All pet-friendly rooms are located on the lower level of the property. Dogs and cats are allowed and may be left unattended if they are well-behaved.
Pets may also stay at Homewood Suites Burlington for an additional fee. The only pet-friendly rooms are the one-bedroom suites on the ground floor, but dogs and cats are allowed and may be left unattended if they are crated.
And, of course, there are any number of pet-friendly Airbnbs, Vrbos, and other rentals for pet owners to explore.
Discover Fun Things to Do With Your Dog in Oakville, ON
Is Oakville dog-friendly? The answer has to be a resounding "yes!" With leash-free dog parks, pet-friendly venues, and a warm community, Oakville is a haven for dogs and their owners alike. So, whether you're a local or considering a visit, Oakville welcomes you and your dog(s) to share in the joy of living in Oakville.
Thinking about moving to Oakville? Call Rayo Irani at RE/MAX Aboutowne at (647) 802-2020 to reach a local real estate agent who can help you find your Oakville dream home.