4 Condo Interior Design Ideas For More Space & Storage: Small Condo, Big Plans
Posted by Rayo Irani on Monday, January 23, 2023 at 12:23 PM
By Rayo Irani / January 23, 2023
Comment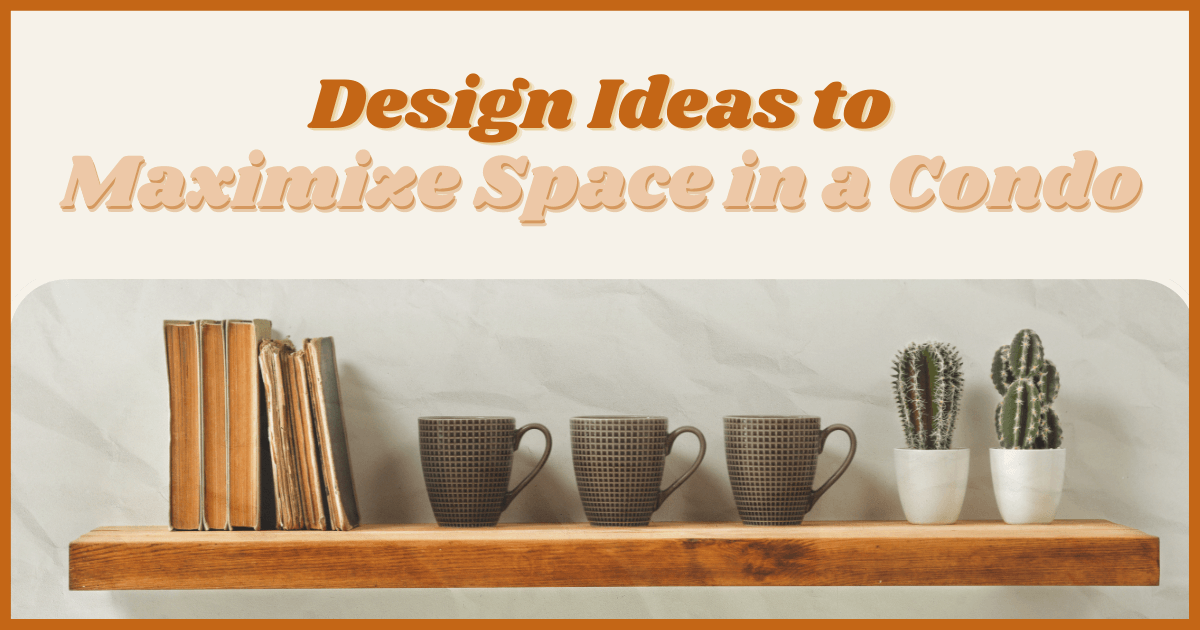 Most people want their condominiums to be cozy but not too cozy. This isn't always easy to achieve, especially when working with limited space. Limited space isn't always a bad thing, though. Condos are often better than single-family homes because they cost less and offer low-maintenance lifestyles. To make your condo even better, you can do several clever things to make the most of your square footage. It's not just an illusion! From thoughtfully placed decor to innovative storage solutions, these tips and tricks cut down clutter and expand living space.
Use All Your Available Storage Space
Finding the best storage solutions for condos is the first step toward a spacious home. Consider purchasing collapsible furniture that can be packed away when it's not in use. Everything from tables and chairs to coffee tables and even beds can be specially designed to fold away to save space and create a less cluttered environment.
Kitchen tables are must-have items, but they can also be bulky and take up a lot of room. One of the original forms of collapsible furniture, drop-leaf tables are classic and functional, designed to save space while maintaining their practicality. These tables typically have inserts or fold down at the edges, reducing or expanding the table's surface area as needed.
Beds don't generally expand or collapse quite as efficiently as drop-leaf tables, but beds with space or organization underneath provide an excellent storage solution. Think about it: the space under a bed is usually a decent-sized area and ultimately unused. It opens up numerous organizational possibilities and can go a long way in maximizing space. Under-bed storage can stash items that may take up a disproportionate amount of space in closets, such as pillows, towels, and out-of-season clothes and shoes.
Big (And Multi-Purpose) Pieces Go Further
Sometimes, bigger really is better. A few carefully selected pieces of furniture or decor can make a space look less cluttered than a collection of numerous smaller items. It may seem counterintuitive, but a longstanding interior design trick for making a space feel larger and more open is adding bigger pieces, such as oversized rugs and mirrors. This creates an illusion that the room must be larger than it seems to accommodate these pieces.
Larger storage pieces also give you more bang for your buck overall. Their size helps thoughtfully fill the room, while the pieces themselves can store items of all kinds to keep them out of sight. Opt for units with doors that close so all that little "stuff" that accumulates stays truly hidden. To create even more space, consider placing a few items on top of the storage unit—either decorative items, such as books or functional ones, like keys. When moving to your new home, take inventory of your furniture and consider replacing it with pieces that function better in your new condo.
Convertible sofa beds are some of the ultimate multi-functional furniture pieces. Couch by day and bed by night; just pull the bottom out from these clever pieces to convert them into beds. Best of all, sofa beds tend to be pretty inconspicuous, so nobody will know you have one until you transform it into a bed in a matter of seconds. Sofa beds can save substantial space since you don't need a dedicated guest bedroom to host overnight guests.
Mirrors & Paint Swatches
The colour looks nice on walls, but it can also make entire rooms seem more spacious. Cool colours, such as light blues and greens, can create a more airy, open feel in a room. By contrast, darker colours are excellent for making a space feel cozy and more intimate—but you may want to avoid them if you're trying to maximize space.
Another tip is to paint an entire room one colour, from floor to ceiling. With one solid colour, the eyes don't notice the boundaries between the two as easily, making the room appear more seamless and endless.
Mirrors play a crucial role in interior design by reflecting a room and influencing the perception of its size. Instead of a bunch of small mirrors, choose one larger one and place it against the wall at eye level. Positioning a mirror closer to a light source, including natural light such as a window, also helps illuminate the space and make it feel brighter. Whatever style of mirror you choose and wherever it's placed in smaller spaces, mirrors should be oversized with minimal or no framing. Larger mirrors, with as much reflection as possible, have the most potential for visually opening up a room.
Start Thinking Vertically
Make the most of your walls—i.e., more valuable, unused real estate—by creating more storage that's out of the way yet highly functional. Wall units and shelving save precious floor space and offer options for storage and decoration. As an added benefit, things on the wall tend to draw the eye upwards, thus making the room feel taller and more prominent.
Hooks and hangers will also come in handy when attempting this DIY solution. Experiment with hanging various items on the walls, like plants, pots and pans, or even fashion accessories, to free up space while keeping them within arm's reach.
Desks are often necessary at home, for work, school, or even for play. Consider incorporating one into the vertical theme by installing a desk that folds into the wall. These fold-away desks are typically lightweight and easy to maneuver, making them great for everyone. Vertically folding up the desk reduces that cluttered feel within the condo, plus provides a practical, private way to store your belongings.
Small Space, Big Possibilities
With some effort and thoughtful consideration, it's simple to make a condo of any size feel even bigger and, therefore, more welcoming. Strategically-placed decor, functional storage pieces, and perhaps a fresh coat of paint can all work wonders in small spaces. When it comes to adding value to your property, the best home improvement projects are the ones that make your life easier.