Toronto West End Real Estate Market Update [New for May 2023]
Posted by Rayo Irani on Wednesday, May 31, 2023 at 9:15 AM
By Rayo Irani / May 31, 2023
Comment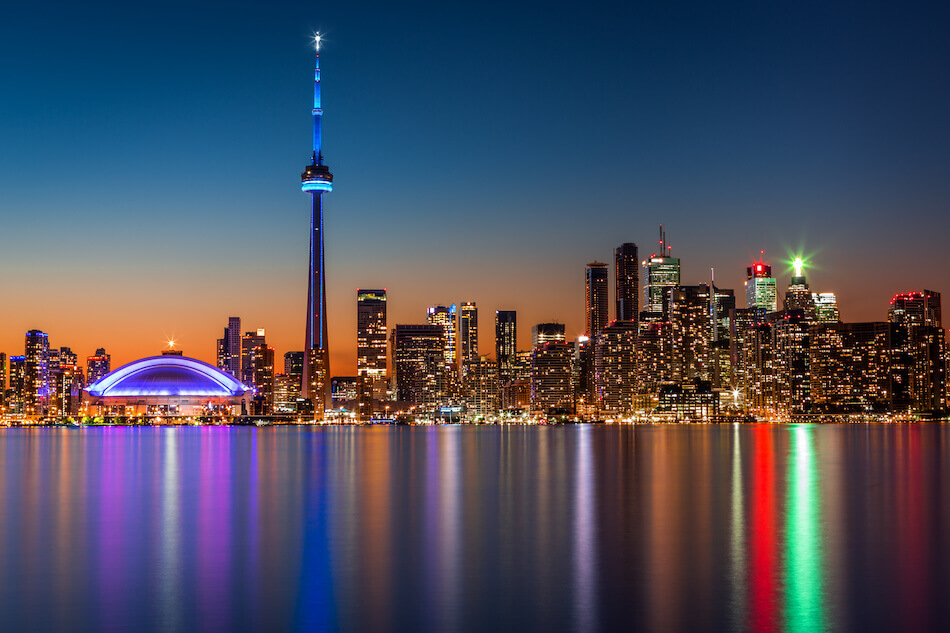 The Greater Toronto Area (GTA) real estate market is always changing, and if you're planning on buying or selling a home, you need to know what's happening in the market. Here, we have compiled month-over-month data from the Toronto Regional Real Estate Board (TRREB) and our own analyses to help you decide if this is the right time for you to buy or sell.
Greater Toronto Market Update - May 2023
As the temperature rises with the arrival of the summer months, inflation remains heated, according to the latest report indicating an increase. This raises questions about the Bank of Canada's next move regarding interest rates. Many people are curious about the current state of the Greater Toronto Area real estate market.
Yearly comparisons show a slight dip in sales compared to April 2022, with new listings declining by over a third. The reduced number of listings has intensified competition among buyers, leading to an uptick in selling prices since the year's start.
TRREB President Paul Baron states, "In line with TRREB's outlook and recent consumer polling results, we are seeing a gradual improvement in sales and average selling price. Many buyers have come to terms with higher borrowing costs and are taking advantage of lower selling prices compared to this time last year. The issue moving forward will not be the demand for ownership housing, but rather the ability to meet this demand with adequate supply. This is a policy issue that requires sustained effort from all levels of government."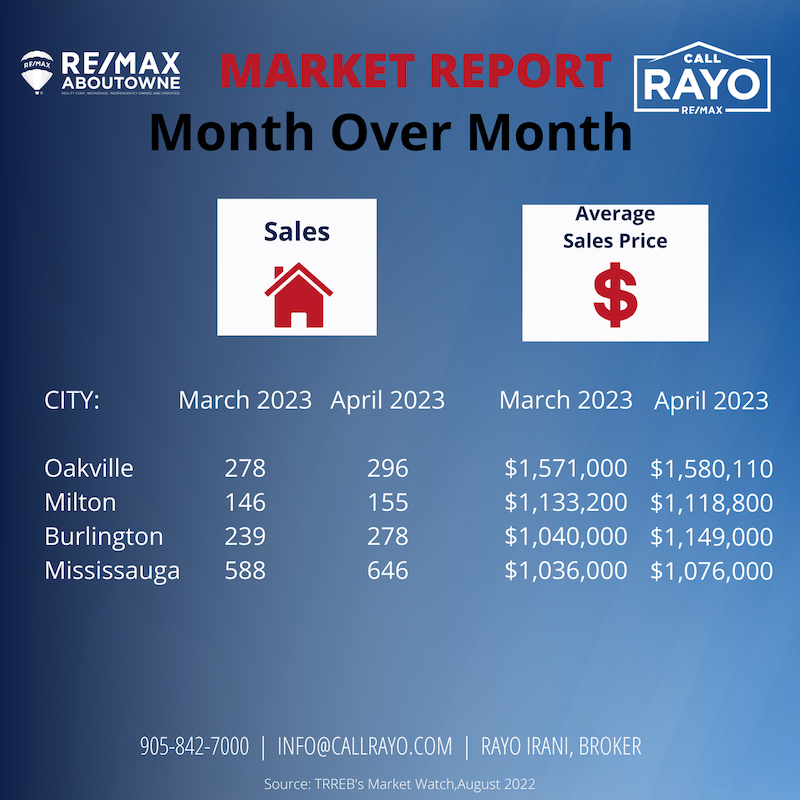 In April 2023, GTA REALTORS® reported 7,531 sales via TRREB's MLS® System, marking a decrease of 5.2% relative to April 2022. However, sales figures for April show an increase when compared to March 2023, both in real terms and when adjusted for seasonality. The number of new listings in April 2023 saw a year-over-year decrease of 38.3%.
The MLS® Home Price Index (HPI) Composite Benchmark recorded a 12.1% decrease in April 2023 from the previous year. However, compared to March, both the actual and seasonally adjusted benchmark price saw an increase. The average selling price in the GTA for April 2023 was $1,153,269—a drop of 7.8% compared to $1,250,704 in April 2022. However, this selling price is higher than that of March, on both an actual and seasonally adjusted basis.
Choose the Call Rayo Team for Your Home
At the Call Rayo Team, we also keep a close watch on the month-to-month sales and average prices in Oakville, Burlington, Milton, and Mississauga areas. If you're thinking about buying or selling a home this year, we'd be happy to help you along that journey. Use our contact form or call us today at (905) 842-7000 to get started!
Trust Us to Help You Sell Your Home
---
Historic GTA Market Updates
April 2023 Market Update
GTA Real Estate Market Basics
The Greater Toronto Area (GTA) is a vast region consisting of wonderful, widely varying communities. Each community has its own unique character, with a rich cultural heritage, history, and traditions. From the bustling streets and stylish condos in Toronto to the serene countryside and beautiful homes with acreage in Halton, there's something for each and every homebuyer in the region.
However, rising interest rates and year-over-year market correction following the historically high 2022 home sales left some wondering whether the real estate market was on the downturn. There's cause for optimism, though, thanks to the upward month-over-month home sales trajectory in 2023.
Home Sales on the Upswing
The communities of Burlington, Milton, and Oakville all experienced solid increases in home sales month-over-month. Even more, the number of transactions on homes in Mississauga saw a huge increase from February 2023 to March 2023. This growth reflects confidence in the market and optimism surrounding the economy in Ontario.
According to the TRREB, there were 6,896 home sales in the GTA in March 2023; this was a significant jump from the 4,783 sales in February 2023, which equates to a staggering 44% increase. Going a bit further back to January 2023 and the 3,100 home sales, numbers have more than doubled—great news for GTA homeowners and homebuyers.
Significant Growth Areas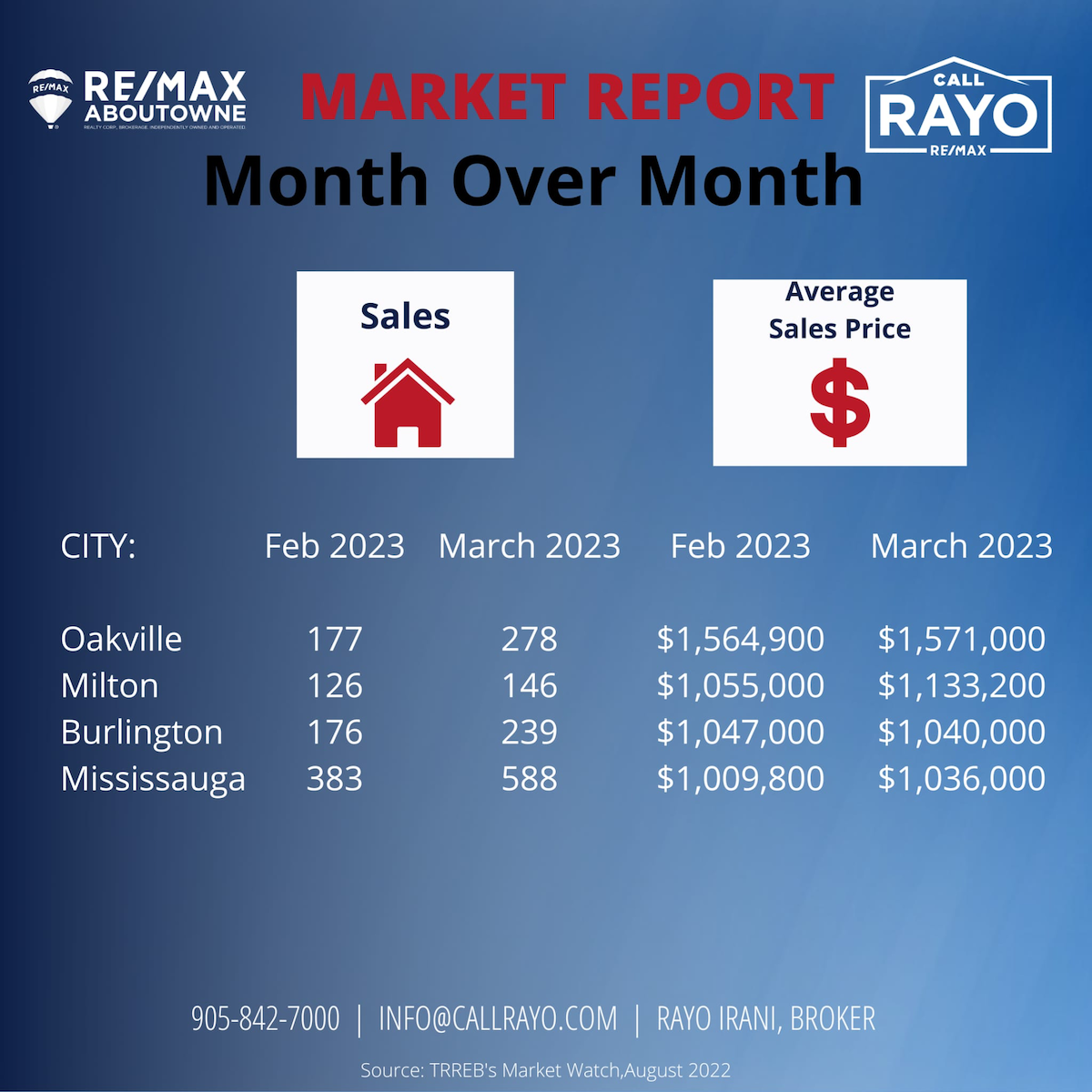 In the city of Burlington, home sales increased from 176 in February to 239 in March. In the Milton area, sales jumped from 126 in February to 146 in March. Similarly, the town of Oakville saw an increase from 177 to 278 month-over-month.
Mississauga saw the greatest home sales growth month-over-month, with 383 homes sold in February and 588 in March. This whopping 35% increase displays the appeal of the area and could signal longer-term growth in home sales in the region.
The data from TRREB includes the full suite of residential property types, including detached homes, semi-detached homes, townhouses, and condominiums. The growth in sales was observed across all of these property types, indicating a robust and diverse real estate market.
Confidence Throughout the Greater Toronto Area
Overall, the real estate market in the Greater Toronto Area has continued its upward trajectory in 2023, with increasing demand for properties and continued growth in sales. Homes in Toronto and the surrounding area are being sold in higher numbers and, in many communities, for more money. The cities of Burlington and Mississauga and the towns of Milton and Oakville are all showing promising growth in their respective real estate markets, making them great options for potential homebuyers or investors.