6 Best Oakville Trails: Explore Sixteen Mile Creek & More Near Oakville, ON
Posted by Rayo Irani on Monday, June 12, 2023 at 1:13:25 PM
By Rayo Irani / June 12, 2023
Comment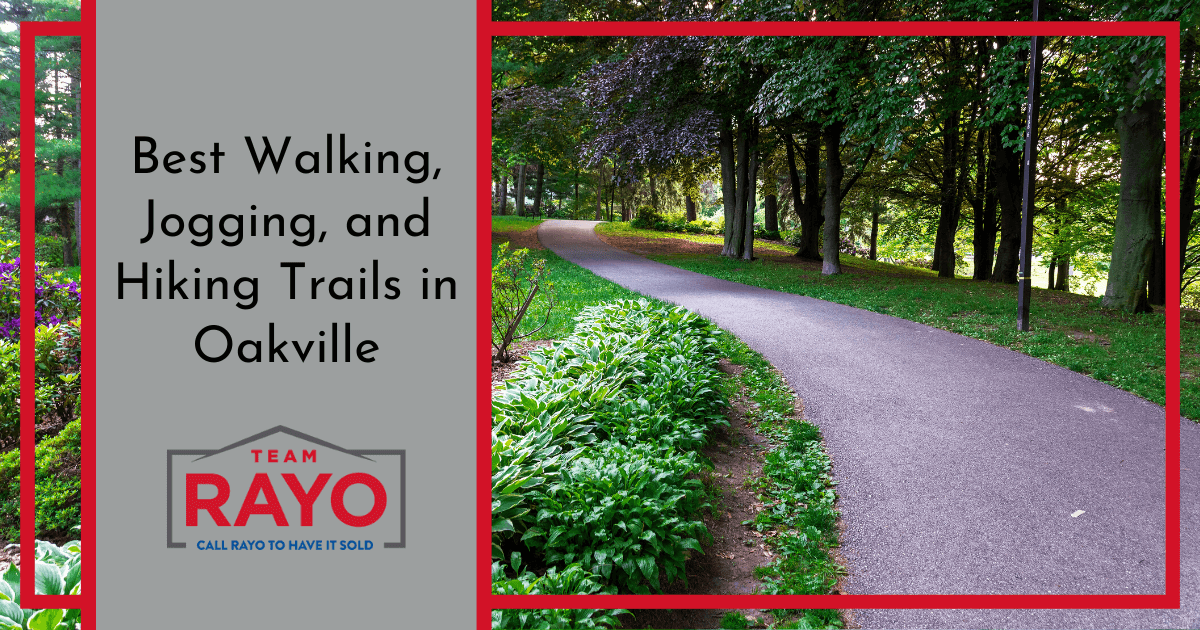 Oakville is a beautiful place to explore the great outdoors. With an abundance of trails that cover everything from easy walks to challenging hikes, there's something for everyone to enjoy. From the Sixteen Mile Trail to the Joshua's Creek Trail, there's something for everyone to enjoy. So, lace up your boots and get ready to explore these beautiful trails in the city of Oakville!
Sixteen Mile Creek Trail
Explore the breathtaking Sixteen Mile Creek Trail, a roughly six-kilometre loop near Oakville that's perfect for a peaceful escape into nature. This area is a highly popular destination for birdwatching, cross-country skiing, and hiking, offering year-round access and easy trails. Dogs are welcome as long as they are leashed. The primary trail consists of both paved and loose gravel paths.
The trails are mostly leisurely, with occasional gentle uphill sections and rocky terrain for a mild challenge. The area is full of diverse sights, from secluded spots by the water to picturesque bridges and plenty of breathtaking viewpoints overlooking the creek. The forested paths offer an array of lush shrubs, perfect for a tranquil walk or run and even a winter destination with cross-country ski paths.
The most convenient parking area is located at 1033 Skyvalley Crescent, near the Glen Abbey neighbourhood. Take some time to immerse yourself in the natural beauty of Sixteen Mile Creek Trail. Here, you can enjoy a peaceful morning, a leisurely afternoon, or a refreshing evening, all while taking in the sights of this spectacular trail near Oakville. With its easy access and diverse terrain, the Sixteen Mile Creek Trail is the perfect spot for both hikers and leisurely strollers alike.
Bronte Creek Provincial Park Loop Trail
Discover the scenic Bronte Creek Provincial Park loop trail near Oakville and take in all the nature it has to offer. Most of the park is located in Oakville, but some of it crosses over to the adjacent city of Burlington. This five-kilometre loop trail is popular among people living in The Orchard neighbourhood, which shares a border with the park. Dogs are allowed but must be leashed at all times. In addition to the trail, the park offers a disc golf course, open year-round, with disc rentals for those without equipment. Whether you're looking for a leisurely stroll or an adventurous day out in nature, Bronte Creek Provincial Park's five trails are definitely worth exploring.
In the day-use area of Bronte Creek Provincial Park, visitors can access one of Canada's largest outdoor pools. Spanning 1.8 acres, the pool is designed for wading, starting with zero-depth entry and gradually deepening to six feet at the center. Lifeguards are on duty, and the pool is open from July 1st to Labour Day, though there may be temporary closures due to inclement weather. An additional fee is required to access the pool area.
McCraney Creek Trail
Take a leisurely stroll through the McCraney Creek Trail for a tranquil exploration experience. This 4.5-kilometre loop is perfect for running and is widely regarded as an easy path. It is also a great spot for pet owners, as dogs are allowed as long as they're leashed.
The trail is part of a comprehensive network that connects the Taplow, Glen Oaks, McCraney, and Fourteen Mile Creeks, as well as upland woodlots and vibrant park spaces. However, caution should be taken when approaching road crossings as the trail intersects with various roads.
The most convenient place to park is likely at the Glen Abbey Community Centre, located just across Upper Middle Road from the hiking area. The community centre offers tennis courts, a track, and baseball fields if you're in the mood for more activity after your liking. You'll also find a few shops and restaurants at the intersection of Upper Middle Road and Third Line.
Hilton Falls Reservoir Loop
Experience the beauty of nature on a three-kilometre loop trail around Hilton Falls Reservoir, located just outside the town of Milton. Perfect for hikers and trail runners, this trail provides an intermediate-level experience for mountain bikers. As it transitions into more rocky paths, you may have to dismount and walk if the area is crowded. Leashed dogs are also allowed on the trails.
As you explore the trail, you will be met with a gradual descent leading to the reservoir and the captivating waterfall. This area can be visited at any time of the year and is sure to provide a memorable experience. Birdwatchers also flock to this trail due to its plentiful wildlife—a perfect opportunity to spot some of Ontario's native species!
The trail is an easy loop, typically taking around 40 minutes to complete. The best months to visit are from April to October, and it stands as one of the best mountain biking destinations in the region.
Joshua's Creek Trail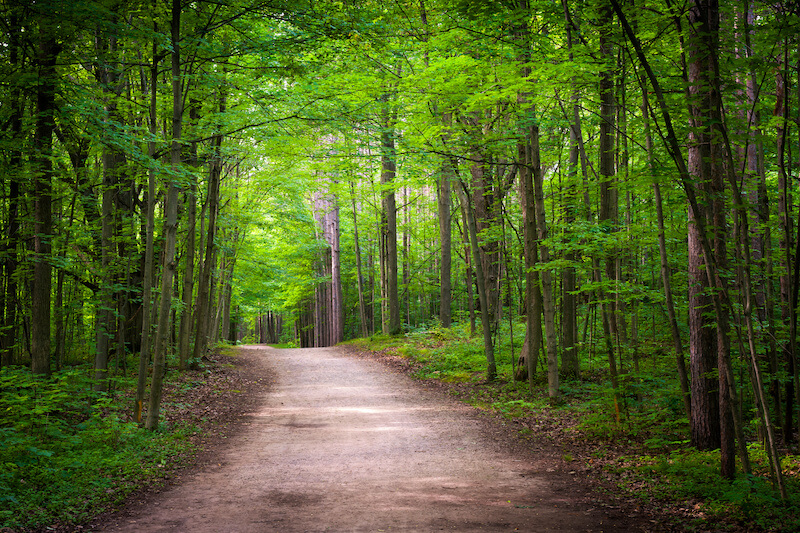 Take a scenic walk through Oakville and explore Joshua's Creek Trail, a 5.6-kilometre out-and-back route. The trail can be found in the east part of town, just north of Lakeshore Road and west of the city of Mississauga. Starting at Winston Churchill Blvd. and ending at Dundas St. and 9th Line, this trail is easy to navigate and offers a variety of terrain.
On average, it takes about just over an hour to complete the trail, but feel free to take as much time as you need to explore and admire the beauty of the area. If you're looking for a more peaceful experience, consider visiting during less busy times of the day. Dogs are welcome on the trail but must be kept on a leash.
No matter what the occasion, Joshua's Creek Trail is the perfect place to escape the hustle and bustle of the city and enjoy some fresh air. The unique landscape and abundance of wildlife make it easy to forget you're still in the city. To learn more about the trail and Oakville's history, stop by the information stand located near the South East Sports Field.
Half Moon Valley Trail
Escape to Half Moon Valley Trail to immerse yourself in the sights and sounds of Bronte Provincial Park! Depending on the season, this 1.6-kilometre trail is suitable for birdwatchers, hikers, and snowshoers. Visitors report that the terrain is both gravel and boardwalk in most sections of the trail, making it accessible to some strollers and wheelchairs. It's important to show respect to other visitors, with cyclists and joggers requested to give audible warnings when approaching slower pedestrians. Dogs must be kept on a leash at all times, and visitors are kindly requested to refrain from picking or removing vegetation and littering.
Half Moon Valley Trail passes through a protected wetland near the Bronte neighbourhood, so visitors should do their best to uphold sustainability efforts. According to local reports, the pathways closest to the creek are often muddy. To avoid this section (or just to get some extra exercise), be on the lookout for the natural stair set going around the creek.
Stride Through Oakville's Best Trails
Oakville offers many scenic trails that cater to nature enthusiasts. These trails not only provide a serene and picturesque escape but also highlight the many reasons to love living in Oakville. From the tranquil waterfront paths along Lake Ontario to the lush green spaces nestled within residential neighbourhoods, these trails showcase the town's commitment to preserving its natural surroundings and creating a harmonious balance between urban living and outdoor exploration.
Thinking about moving to Oakville? Call Rayo Irani at RE/MAX Aboutowne at (647) 802-2020 to reach a local real estate agent who can help you find your Oakville dream home.