7 Best Small Towns in Ontario: Where to Enjoy Small-Town Living in Ontario
Posted by Rayo Irani on Monday, November 6, 2023 at 8:51:53 AM
By Rayo Irani / November 6, 2023
Comment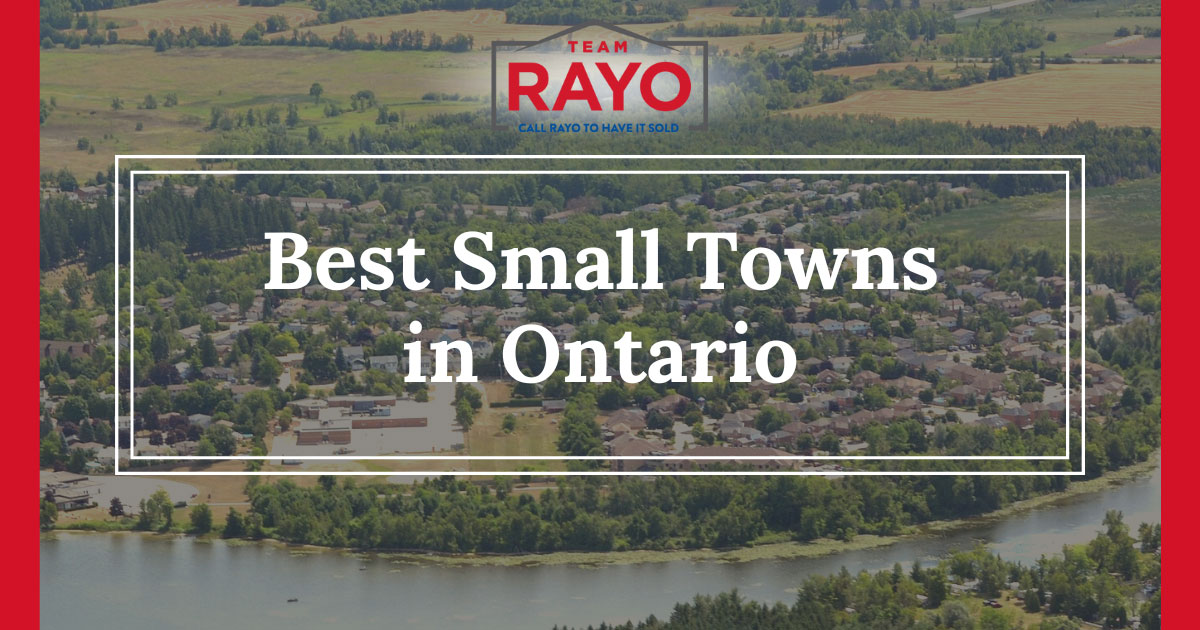 Are you looking for picturesque, small towns to explore in the province of Ontario? Whether you're a visitor, a local, or considering moving to Oakville or Toronto but curious about small-town alternatives, these idyllic communities are a great starting point. Discover the best small towns in Ontario, where you'll find historic charm, unique attractions, and endless activities!
Niagara-On-The-Lake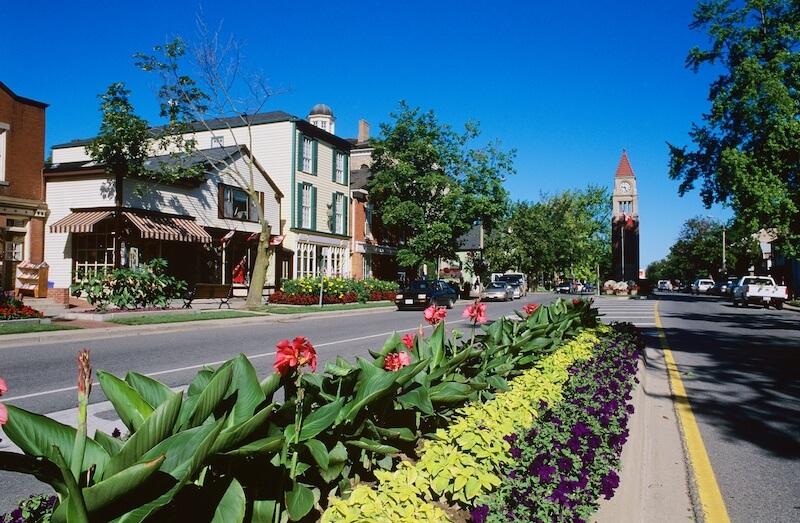 Niagara-On-The-Lake is one of Ontario's must-see small towns, boasting historic sites, renowned theatres, marinas, parks, farmland, markets, and world-famous wineries. Visitors are often surprised to find that Downtown Burlington is less than an hour away from Niagara-On-The-Lake. Experience the charm of the area with a stroll through the heritage district's boutiques and antique shops, or take a horse-drawn carriage ride through the old town.
Enjoy the beauty of Queenston Heights and the majestic Niagara Falls with a short drive along the Niagara Parkway, then head to the Niagara Parks Butterfly Conservatory. Sample the area's renowned wines, beers, and spirits at the nearby wineries, breweries, and distilleries. Catch a show at the Shaw Festival, or explore the area's rich history with visits to historic landmarks. Relax in one of the exquisite hotels or charming bed and breakfasts, or indulge in the diverse culinary delights of the town's many restaurants. Niagara-On-The-Lake is the perfect day trip for visitors to Niagara Falls, adding a touch of quaint elegance to the adventure.
Acton
Acton is an inviting opportunity for those seeking a serene, historically rich town within the Greater Toronto Area. Located 70 kilometres northwest of the city of Toronto, Acton is nestled between Guelph and Georgetown within the Halton Hills region, conveniently connected to larger cities through its robust transit infrastructure. Its exceptional location is underscored by highways and railways linking it to the bustling metropolis.
The area's natural beauty is provided by the Niagara Escarpment and nearby conservation areas like the Rockwood Conservation Area, Silver Creek Conservation Area, and Limehouse Conservation Area. Acton's residence within the Halton Hills allows its inhabitants to embrace this splendour.
Acton's real estate market is ideal for those looking for small-town living without compromising accessibility to Toronto. Located just 45 minutes from the spectacular luxury homes in Oakville, Acton's layout consists of suburban-style neighbourhoods radiating outward from the town center, particularly to the south and southwest. Residents here are only minutes away from Guelph and Georgetown by car, and public transportation offers efficient routes to both Toronto and Kitchener.
Lindsay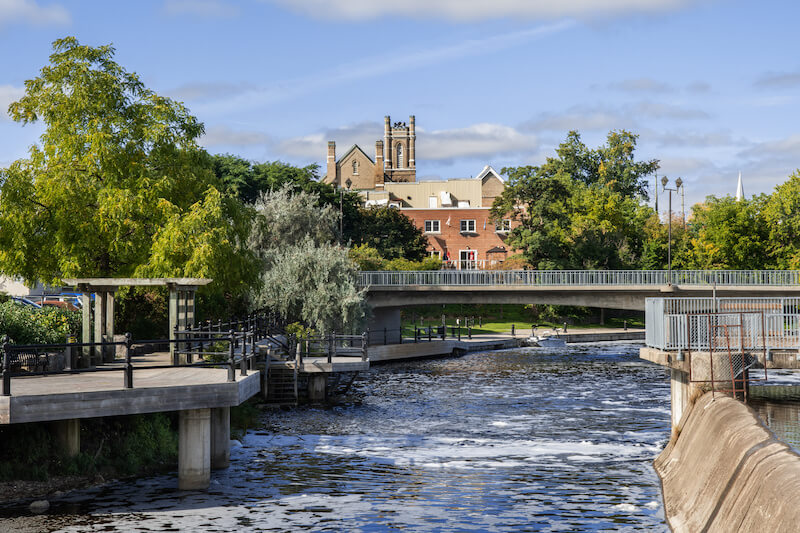 Located in the Kawartha Lakes region, Lindsay is a charming town with a great blend of heritage buildings, scenic parks, and a quaint downtown core. Boasting a population of approximately 20,000, Lindsay is known for its small-town pride and celebrates its agricultural heritage with the week-long Lindsay Exhibition. Visitors can take leisurely strolls along Kent Street in the downtown area, where warm greetings and friendly reception are commonplace.
Recent revitalization efforts have made the downtown core more modern and pleasant for shopping, dining, and errands, while the thriving business landscape offers numerous employment opportunities. Outdoor enthusiasts are also in luck, with many recreational activities such as golfing, hiking, fishing, and swimming nearby.
The real estate in Lindsay varies from historic smaller homes to modern suburban subdivisions, but the most sought-after properties remain fully detached single-household homes. With its blend of culture, history, and outdoor activities, Lindsay is a great option for Greater Toronto Area residents seeking a larger living space.
Caledon Village
Immerse yourself in the history of Caledon Village, a vibrant urban center tucked away at the intersection of Highway 10 and Regional Road 24, just a 50-minute drive from the town of Oakville. The village dates back to the 1820s when it was first settled by Irish and Scottish emigrants. Today, you can explore its remarkable 19th-century structures on a self-guided heritage walking tour.
Caledon offers plenty of excellent restaurants, distinctive shops, and a lively theatre scene. It's also incredibly convenient, with easy access to other destinations in Caledon Township and the 400 series highways. The village is full of amenities, including a community center, library, tennis courts, and the Caledon Fair Grounds.
At the convergence of Hurontario Street and Main Street, you'll find shopping plazas, fast-food eateries, professional and medical offices, daycares, and an array of independent shops and restaurants. The housing in Caledon Village is varied, from heritage homes to ranch-style bungalows. One thing they all have in common is the spaciousness of the lots, offering plenty of room for backyards.
Elora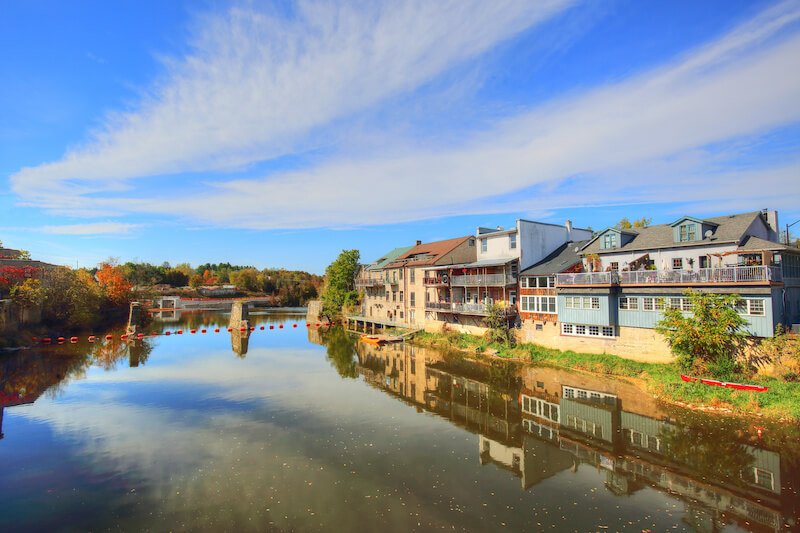 Nestled amid the stunning cliffs of Elora, you can discover a tranquil respite from urban life and ample opportunities for outdoor recreation—all just over an hour from the city of Hamilton. Located about an hour and a half's drive from Toronto, Elora is a small town with a modest population of just over 3,000 people. The picturesque Elora Gorge Conservation Area and Elora Quarry offer hiking, swimming, picnicking, and thrilling zip-lining adventures, while winter brings ice climbing and other winter activities.
Thanks to its historic architecture and distinctive natural surroundings, this town is a popular destination for those seeking a slower-paced lifestyle away from the city. There are a variety of older homes on expansive lots and newer developments on its outskirts, so you can find a property that fits your criteria with the help of an experienced real estate professional.
The town also hosts a wealth of events throughout the year, from the weekly Farmers' Market in the summer to the Elora Festival in July. Whether you're looking for a day trip or a permanent home, Elora is a cherished gem that offers something for everyone.
Georgetown
Georgetown is a true gem in the Greater Toronto Area, offering a peaceful suburban lifestyle, attractive commute times to larger cities, and varied housing options. Located along the Credit River in the Halton region, Georgetown boasts a rich history and modern amenities. Its downtown area lies at the intersection of Mill and Main Street, while modern housing developments radiate outward from there. Surrounding the town are conservation projects and natural sanctuaries, giving residents plenty of outdoor recreation and peace.
Most of the real estate in Georgetown consists of detached homes, although semi-detached, duplexes, and row houses are also available. Most homes have at least three bedrooms, which is convenient for larger households. Georgetown is situated 45 kilometres from Toronto and 60 kilometres from Central Hamilton, making it easy to access larger cities while still living in a small town. With a population of over 45,000 residents, it is the largest population center in Halton Hills.
Georgetown's real estate market offers a healthy share of the homes with acreage in Halton, and the community has plenty of amenities and opportunities for outdoor recreation. With its convenient location and attractive features, Georgetown is a good location for those seeking a suburban lifestyle.
Orangeville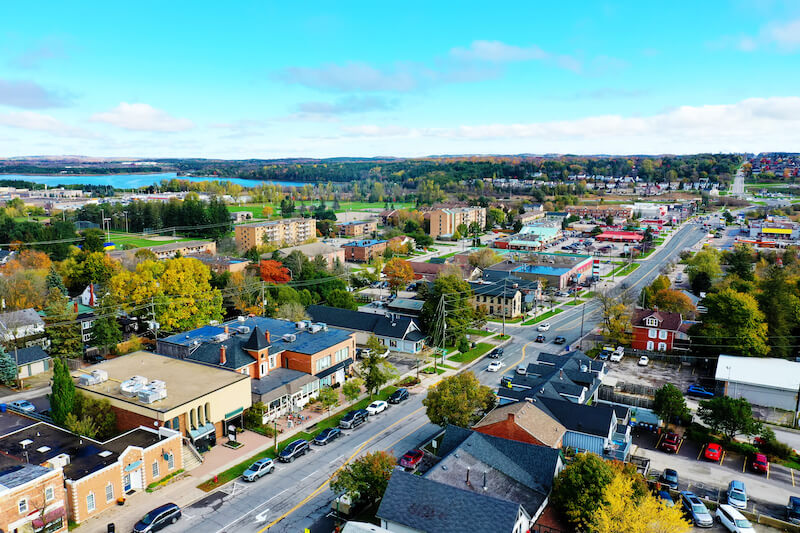 Orangeville is an ideal choice for those seeking a small-town lifestyle close to the GTA. Located in the northwestern Greater Toronto Area, this charming town offers a good balance between rural landscapes and modern amenities. The town has a relaxed atmosphere and is home to almost 30,000 residents. With proximity to Brampton and less than an hour's drive to reach the town of Milton, the town is great for those wanting to explore the GTA or nearby natural attractions.
Detached homes are the most prevalent housing type in the area, making Orangeville an ideal spot for those in pursuit of spacious, private residences. Over 2,000 homes have been built since 2000, reflecting its ongoing development. Residents also have access to amenities like retail stores, restaurants, parks, and entertainment venues.
Orangeville is home to many festivals and events year-round, like the Orangeville Blues & Jazz Festival and the Orangeville Farmers' Market. Its strategic location also allows for easy access to nearby attractions, such as Huronia and the Bruce Peninsula.
Enjoy Small Town Life in Ontario
If you're looking for a change of pace, why not visit one of these quaint small towns in Ontario? With their charming main streets, relaxing atmosphere, and rich history, you'll feel like you've stepped back in time. Whether it's Niagara-On-The-Lake, Georgetown, Acton, or any of the other amazing towns, you won't be disappointed.
Is Ontario calling your name? Contact Rayo Irani at RE/MAX Aboutowne at (647) 802-2020 to talk with a local real estate agent who can help you find your dream home in Ontario.