13 Best Neighbourhoods in Oakville: Your All-Access Guide to Oakville's Best Homes
Posted by Rayo Irani on Wednesday, July 19, 2023 at 11:45 AM
By Rayo Irani / July 19, 2023
Comment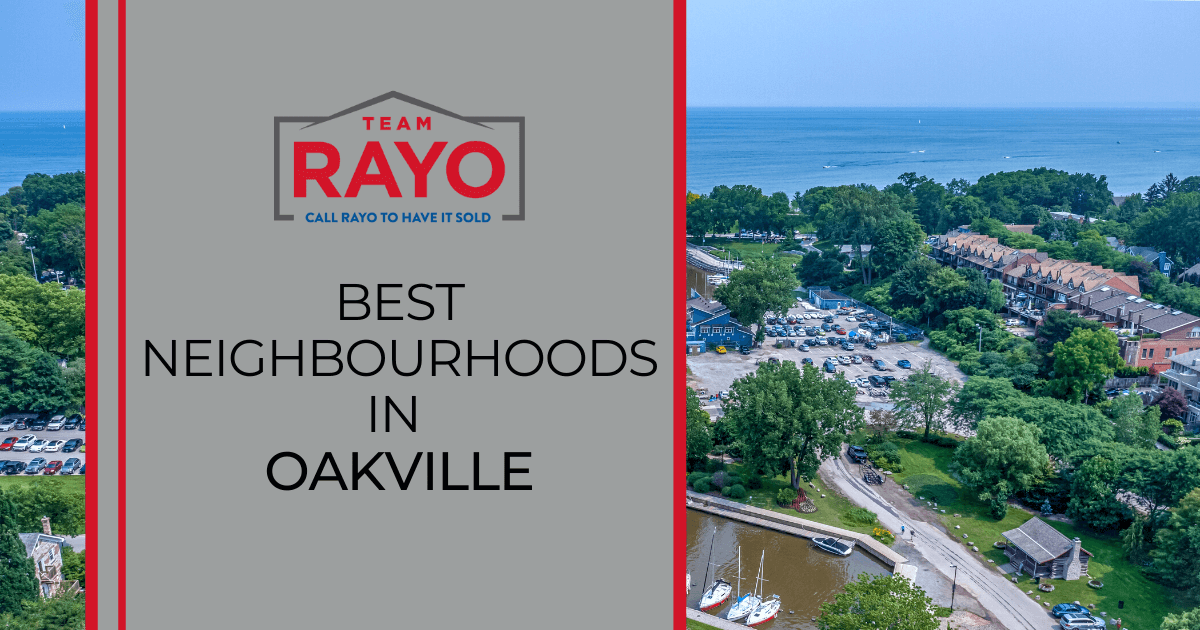 Discover the best places to live in Oakville! Nestled along the serene shores of Lake Ontario, the city of Oakville exudes an irresistible allure, boasting a collection of the finest communities that are truly second to none. With its picturesque landscapes, stunning homes for sale, and abundant amenities, anyone moving to Oakville will find a harmonious blend of natural beauty and urban convenience. Kick off your homebuying journey by exploring the best neighbourhoods in Oakville.
Best Neighbourhoods in Oakville
Bronte
Bronte is often referred to as a hidden gem, located on the western border of Oakville and boasting one of the loveliest harbours on the shoreline of Lake Ontario. There are plenty of amenities for visitors and locals alike, ranging from waterfront parks to restaurants, shops and recreational activities. Centred around Lakeshore Road, the neighbourhood redefines luxury living with its new construction rowhomes, select bungalofts and contemporary detached properties near the waterfront.
It comes as no surprise that Bronte is one of the most expensive neighbourhoods in Oakville. Even the lowest-priced homes for sale in Bronte begin at an impressive $1 million. As you explore the diverse listings, you'll find yourself captivated by elegance and grandeur, with prices reaching as high as $6.5 million. Whether you're drawn to luxurious waterfront estates, contemporary architectural masterpieces, or charming heritage homes, Bronte offers a real estate landscape that caters to the most discerning buyers.
Bronte Heritage Waterfront Park is the heart of the community, boasting two lighthouses, a pier, and plenty of fun seasonal events. Boaters will be pleased to find that the marina can accommodate hundreds of sail and motorboats. Residents can relax on Bronte Harbour Boardwalk and enjoy long-range views across the tranquil lake waters. Bronte Beach Park sets the scene for sun-kissed summer days, while the Waterfront Trail provides backyard adventures practically in your backyard. Upscale amenities include the Bronte Harbour Yacht Club and the fresh food market, Farm Boy.
Bronte Amenities
Bronte Outer Harbour & Marina
Town of Oakville Marina
Bronte Beach Park
The Bronte Boathouse Restaurant
Plank Restobar
Firehall Bar & Grill
Flavour Fox Ice Cream
Cucci Italian Restaurant
College Park
College Park features winding streets, scenic landscaping, and a variety of desirable homes for sale. The community gets its name from Sheridan College, located at the centre of the neighbourhood off Trafalgar Road.
Embracing a rich tapestry of architectural styles, the homes for sale in College Park present an enticing real estate landscape. This established community, which saw its development boom in the mid-1960s, presents a blend of housing options, offering something for everyone.
For those seeking more affordable yet stylish living, College Park showcases an array of duplexes and condos, with prices ranging from $680,000 to $800,000. As you explore further, the neighbourhood unveils a selection of single-family homes that embody comfort and elegance, starting at around $950,000 and extending upwards of $2 million. Nestled on decent-sized lots, the housing options in College Park include a mix of beloved styles such as bungalows, split-level homes, and older two-story dwellings, each adding to the unique charm and character of the neighbourhood.
College Park offers its residents a wealth of amenities, including numerous parks that feature trails and playgrounds, as well as nearby shopping and educational institutions. The streets are all traffic-calmed with sidewalks and bike lanes, allowing easy mobility throughout the neighbourhood. Seven parks are located within College Park, with Oakville Park being the largest. It has a baseball diamond and sports fields, while most parks have a trail system and a children's playground. For those looking to shop or attend school, Sheridan College is located nearby, as is Oakville Place shopping centre.
College Park Amenities
Oakville Golf Club
Oakville Place Mall
16 Mile Creek Hiking Trails
Monaghan's Sports Pub & Grill
Litchfield Park
Glen Abbey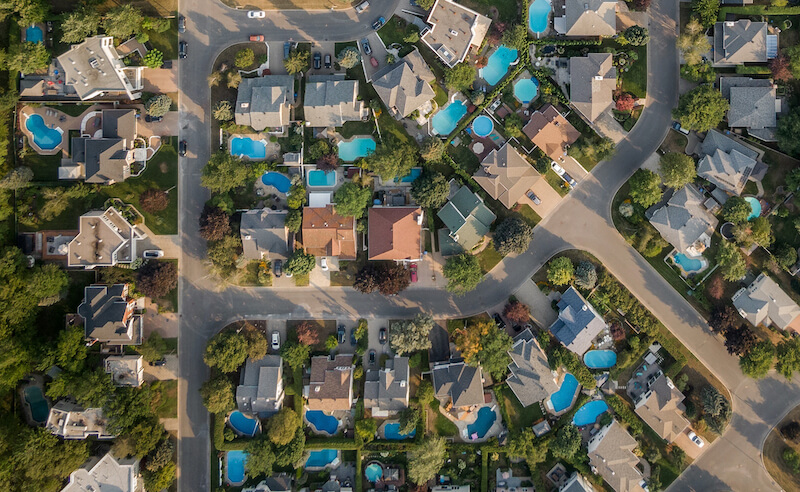 Glen Abbey is a golfer's dream come true! It borders the Glen Abbey Golf Club and the Canadian Golf Hall of Fame. Its traditional two-storey, four-bedroom homes with double garages on generous lots. The area also provides access to various parks and amenities perfect for those seeking an active lifestyle and plenty of schools.
As the first golf course community in the Greater Toronto area, this luxurious enclave has earned its reputation as one of the most coveted neighbourhoods in town. Real estate in Glen Abbey showcases a range of exquisite properties, with the most common listing prices starting at approximately $1.4 million. For those seeking a taste of elegance and convenience, luxury townhomes provide a more affordable entry point. However, the stately mansions boasting picturesque golf course views truly captivate buyers, commanding prices of $3 million or more.
The amenities in Glen Abbey offer adventure and relaxation in equal doses. Surrounded by the beauty of nature, Glen Abbey offers stunning views of lush greenery and picturesque landscapes, perfect for a peaceful and serene getaway. The iconic Monastery Bakery is an excellent choice for those looking for a tasty treat. Those looking for something more active can explore the elaborate trail system or visit The Recreation Centre with its modern library, Gymnastics Club and other facilities.
Glen Abbey Amenities
Golf Canada
Glen Abbey Golf Course
Canada Golf Hall of Fame
Lion's Valley Park
Rotherglen School
Rural Oakville
Rural Oakville is a large area north of central Oakville, roughly bounded by Dundas Street (also known as Highway 5) and the rest of Oakville to the south, the town of Milton to the north, the city of Mississauga to the east and the city of Burlington to the west. This area offers convenient access to all amenities in nearby cities while maintaining its rural setting with plenty of green space. Homeowners benefit from excellent roadways, including Highway 407, which provides quick access for commuting throughout GTA for work, school or leisure activities.
Rural Oakville is home to various golf courses, including the renowned Royal Ontario Golf Club, with over 6,000 yards of play across 18 holes. The Oakville Executive Golf Course and the Rattlesnake Point Golf Club are also nearby.
Other amenities in Rural Oakville can improve the quality of life for those who call it home. The new world-class Oakville Trafalgar Memorial Hospital provides excellent medical care and is just one part of the larger network of healthcare facilities in the area. In addition, there are plenty of restaurants and shops to explore and plenty of natural beauty to enjoy. Rural Oakville offers much tranquillity and peace among its rolling hills and open fields for those looking for a respite from city life.
Rural Oakville Amenities
Sixteen Mile Sports Complex
Angel's View at Oakville Executive Golf Course
Oakville Trafalgar Memorial Hospital
Royal Ontario Golf Club
Old Oakville
Nestled along the picturesque shores of Lake Ontario, the Old Oakville neighbourhood exudes a timeless charm that has captivated residents and visitors alike for generations. The neighbourhood's crown jewel, the historic downtown, offers an array of boutique shops, gourmet restaurants, and cultural attractions, creating a vibrant hub that exudes a distinct sense of character and community. Plus, commuters are minutes from the Oakville GO Station, providing bus and train service to Union Station in Toronto. Lakeshore Road, QE2 and the 400 Highways are also easily accessible from the area.
Real estate in Old Oakville is a testament to its rich history and evolving architectural landscape. Homebuyers will find a delightful mix of historic homes dating back to the 1800s, exuding charm and character, alongside new-build estates that boast contemporary designs and luxurious amenities. Condos and townhomes offer an enticing option, with prices ranging from $500,000 to $800,000. Luxurious single-family homes are sold for prices that can reach $5 million or more.
The Old Oakville neighbourhood offers a wealth of amenities, from its picturesque residential streetscapes to its many waterfront parks and promenades, providing an idyllic setting to relax and soak up the scenery. The area is renowned for its well-preserved heritage century homes, many of which are designated with historic plaques, and its selection of private schools. Its shopping district downtown further adds a unique charm to the area.
There are various retail options and dining spots along Lakeshore Road, including Ce Soir Brasserie, Anthropologie, SPINCO Fitness and the popular gastropub, The King's Arms. Local amenities north of the road include MacLachlan College, a private school for grades pre-K–12; Oakville Trafalgar Community Centre, featuring swimming and fitness facilities; and the Oakville Centre for Performing Arts, presenting nearly 300 live performances and events each year.
Old Oakville Amenities
The Oakville Club
Oakville Centre for the Performing Arts
Historic Downtown Shopping District
Trafalgar Village
Whole Foods Market
Beetown Public House
Colossus Greek Taverna
Oakville Museum
Lakeside Waterfront Park
Oakville Curling Club
River Oaks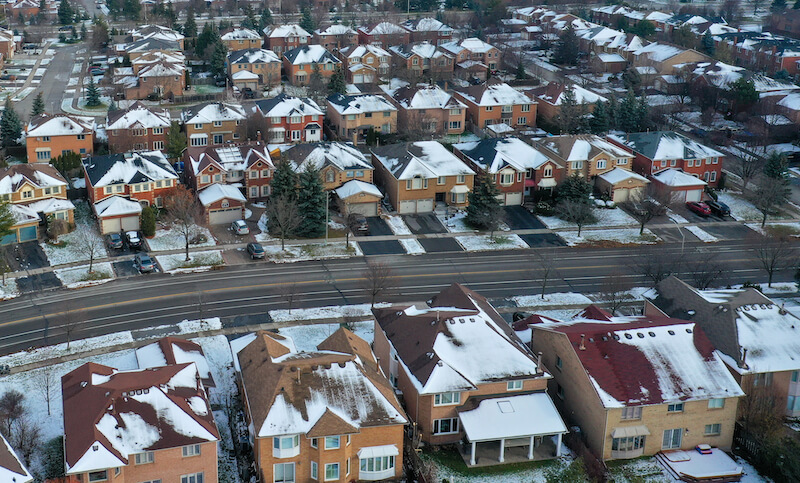 River Oaks is a vibrant neighbourhood located in Oakville. River Oaks homes come in various styles, including linked houses, semi-detached, mid-size or large two-storey, detached homes, and townhouses. Residents of River Oaks benefit from a long list of amenities, such as ample green space, numerous retail locations, and numerous public and private schools within the community.
The River Oaks neighbourhood offers a diverse range of real estate options to suit various preferences and budgets. An attractive array of condos and townhomes come with prices ranging from $500,000 to $800,000. If you're searching for more space and privacy, single-family homes in River Oaks offer an abundance of luxurious options that cost between $1 million and $3 million.
Located between Lion's Valley Park and the Uptown Core, River Oaks offers a tranquil and convenient environment for its residents. As its name suggests, Uptown Core is a lively district that serves as a vibrant hub of activity, offering an abundance of shopping plazas and amenities that cater to the needs and desires of its residents. One of the key features of Uptown Core is its Power Centre, anchored by the popular retailer Wal-Mart, which adds to the convenience and accessibility of the area.
River Oaks Amenities
Uptown Core shops & restaurants
Memorial Park
Oak Park Neighbourhood Centre
Dalebrook Park
Clearview
Clearview is a neighbourhood in Oakville, Ontario, that offers residents many amenities and green spaces. The borders of Clearview are the Queen Elizabeth Way (QEW) to the north, Winston Churchill Boulevard to the east, Cornwall Road to the south, and Ford Drive to the west. Homes for sale in Clearview are mostly two-storey single-family homes with prices ranging from $1 million to $1.3 million.
The Clearview neighbourhood offers a variety of amenities to its residents, ranging from community centres and neighbourhood schools to shopping plazas and numerous parks with interconnected trails and footpaths. The streets are designed for pedestrians and cyclists, with sidewalks and bicycle lanes. There are numerous green spaces within walking distance of homes, including Clearview Park, Kingsford Gardens and Wynten Way Park. The Avonhead Ridge Trail connects each of these parks, so locals can experience the full breadth of nature without having to drive far from home.
Within Clearview, there is something for everyone; enjoy picnics at one of the nearby parks or explore trails along Sixteen Mile Creek Valley. The neighbourhood schools provide educational opportunities for children, while the community centre provides activities such as art classes and movie nights. Shopping plazas offer convenience stores, restaurants, cafes, banks, fitness studios and more. With so much on offer within Clearview, it's no wonder it's one of Oakville's most desirable neighbourhoods!
Clearview Amenities
Clarkson Community Centre
Cineplex Cinemas
iFly Indoor Skydiving
Oakville Putting Edge
Temple Bar
Hasty Market
Four Brothers Pizza
Angora Turkish Food Market
Zenith Physiotherapy
James W. Hill Public School
Jonathan Park Tennis Courts
Iroquois Ridge North
Iroquois Ridge North is a large subdivision located in northeast Oakville. It stretches from Upper Middle Road to Dundas Street East and has a hilly terrain due to its location on the remnants of the Oakville escarpment. The neighbourhood amenities include Joshua Creek Trail, a 6km trail from the base of Winston Churchill Blvd. to Dundas St. and the 9th Line area, and various parks and recreational areas for residents to enjoy. Homes for sale in Iroquois Ridge North typically cost between $1 million and $2.1 million.
Located in the neighbourhood of Iroquois Ridge North, the Iroquois Ridge Community Centre is a hub of activity, with its eight-lane swimming pool and water slide providing an inviting respite on hot summer days, while its skateboard park offers an exciting challenge for adventure seekers. The centre also features a gymnasium, fitness centre, and community meeting rooms. For those looking to stay active outdoors, there are tennis courts at Glenashton Park. The Oakville Public Library is conveniently located adjacent to the community centre so that residents can enjoy recreational and educational activities.
Iroquois Ridge North Amenities
Oakville Public Library - Iroquois Ridge Branch
Glenashton Dog Park
Glenashton Skatepark
Cricket ground & pickleball courts
Iroquois Ridge High School
Most Expensive Neighbourhoods in Oakville
Known for its breathtaking waterfront properties, stunning architecture, lush green spaces, and proximity to the city of Toronto, Oakville has become a haven for discerning homebuyers seeking luxury. From sprawling estates nestled amidst rolling hills to contemporary mansions boasting state-of-the-art amenities, these neighbourhoods display residential prestige and offer an unparalleled lifestyle for those considering moving to Oakville.
Joshua Creek
Joshua Creek is a relatively new luxury neighbourhood in Oakville that was developed from the 1990s to the 2010s. The area's winding roads and traditional brick architecture give it an idyllic, almost storybook feel. Greater Toronto Area (GTA) commuters appreciate its convenient access to the QE2 and Highway 403, with main arteries like Dundas, Ninth Line and Upper Middle Road just minutes away.
Homes in Joshua Creek are mainly two-storey detached properties with masonry facades, two-car garages and landscaped yards, though a share of the condos in Oakville can also be found here. Many homes feature open layouts, soaring ceilings above the living room, and upgraded kitchens with modern appliances. The average home size ranges from 3,500 to 4,500 square feet, with prices falling between $600,000 for a one-bedroom condo and $3 million for a five-bedroom property.
Joshua Creek amenities include the vintage 5 Drive-In movie theatre, over 50 shops and services at Upper Oakville Shopping Centre and the top-performing Iroquois Ridge High School. Other local hotspots, such as the Iroquois Ridge Community Centre, Glenashton Park and the all-you-can-eat Spoon & Fork, offer locals plenty of entertainment and dining options.
Joshua Creek Amenities
Little Kids Daycare
Metro Supermarket
Postridge Park
Oakwoods Centre
GoodLife Fitness
Vereda Central Coffee
Pump & Patio Restaurant
Joshua Creek Public School
Glenorchy
Glenorchy is a master-planned community in North Oakville, offering residents a modern and sophisticated lifestyle close to city amenities. Developed in the 2000s, it's one of the newest Oakville luxury neighbourhoods and boasts state-of-the-art homes, numerous parks and convenient access to Highway 407.
Homes in Glenorchy are generally detached structures that are two or three stories tall and constructed with high-quality materials such as brick and tempered glass, though its share of Oakville townhomes is equally impressive. New condos are also available, featuring floor-to-ceiling windows, open layouts and custom finishes. Buyers in the market for four bedrooms or more will find plenty of detached options in Glenorchy, with garage space for three or more cars. Home prices range from $500,000 for a smaller condo to $3 million for a large executive property.
Glenorchy residents enjoy various recreational activities at the famous Sixteen Mile Sports Complex. The 79-hectare complex features an Olympic-size ice pad, three additional rinks and two community rooms, a skateboard park, athletic courts and more in the works. Other local highlights include Fortinos Supermarket, Oakville Executive Golf Course, Oakville Hospital and Oodenawi Public School.
Glenorchy Amenities
Pho Mama
Black Pepper Indian Kitchen
George Savage Park
Shannon Creek Trail
Rise Mind Body Fitness
Munns Child Care Centre
Eastlake
Eastlake is located on the shores of Lake Ontario, east of downtown, and is known for its schools, extensive park system, and a huge selection of luxury homes in Oakville. One of the oldest luxury neighbourhoods in Oakville, country-style estates have occupied the area since the early 1900s. Buyers have easy access to Highway 403 and QE2 and the Oakville and Clarkson GO Stations.
The lakefront homes in Eastlake are some of the most expensive in town, with exquisite architectural details such as grand foyers, sweeping staircases, and marble fireplaces. Homes range from 4,000 to 10,000 square feet, excluding outdoor areas that can add 5,000 or more. Homes for sale in Eastlake list from around $2 million, while the most luxurious estates can command upwards of $15 million. Those on the higher end of the price range often have resort-style amenities like pools, outdoor kitchens and tennis courts.
Eastlake amenities include St. Vincent Catholic Elementary School, Maple Grove Arena and the scenic Edgmere Promenade. The Trans Canada Trail runs east to west along the lake, providing recreational opportunities for hikers, joggers and cyclists. The neighbourhood is also home to numerous shops, restaurants and services in Maple Grove Village, including a Sobey's grocery store and a Rexall drugstore.
Eastlake Amenities
Ardleigh Park
Chancery Promenade
Maple Grove Tennis Courts
Perfect Swing Golf Academy
English Bay Fish & Chips
Oakville Trafalgar YMCA
Ford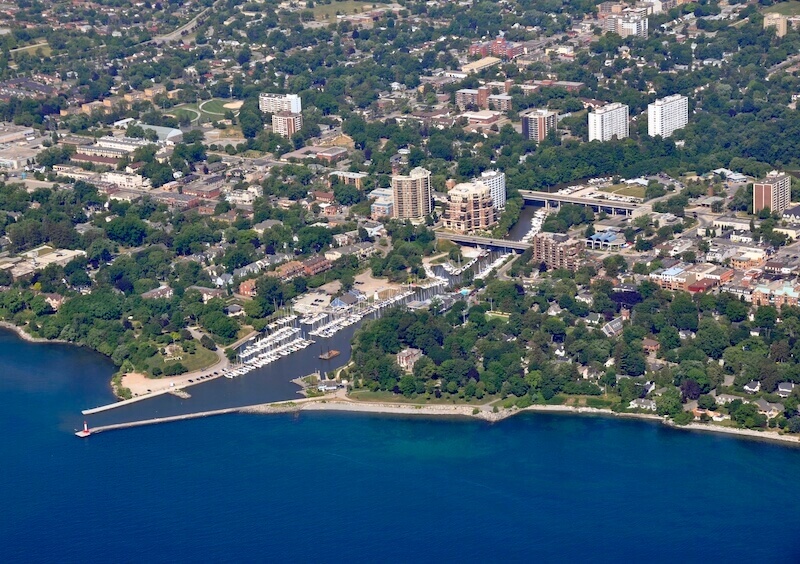 Developed from the 1960s to the 1980s, Ford is an established Oakville luxury community known for its tranquil streets and coveted real estate. Situated on Oakville's east end, the neighbourhood is close to the 400 Highways and QE2, with Lakeshore Road East, Ford Drive, and Maple Grove Drive serving as its main arteries. It offers a secluded atmosphere, surrounded by lush greenery and scenic lake views while providing easy access to Downtown Oakville.
Homes in Ford are predominantly two- or three-storey detached properties, often featuring brick and stone construction and modern finishes. Many of the neighbourhood's original properties have either undergone substantial updates and remodelling or been wholly replaced with new builds. Prices range from $1.8 million for a large four-bedroom home to around $10 million for a five-plus-bedroom estate with waterfront access.
Local amenities in Ford include Maple Grove Park, where residents can access tennis and pickleball courts, and Carrington Promenade, a lakeside greenway popular among joggers and cyclists. Luxury buyers are also drawn to the neighbourhood's exceptional schools, including Clanmore Montessori and Maple Grove Public School. Shopping and dining are available nearby at Maple Grove Village, and a commercial district in Ford's northeastern corner is home to The Royal Windsor Pub & Eatery, Celadon House, and other popular spots.
Ford Amenities
LF3 Fitness
Arkendo Park
Aspen Forest Park
Casa Romana Sweets
Harding Waterfront Estate
Alpha's Discovery Daycare
Royal Ford Veterinary Hospital
Morrison
Morrison has some of the highest home prices in Oakville. Situated in the Eastlake area near the city's downtown core, the neighbourhood enjoys a peaceful setting surrounded by lush greenery and scenic lake views. Nearby highways and public transportation make it a desirable option for luxury buyers commuting to Toronto and other destinations in the GTA.
Morrison's real estate offerings include large gated estates and secluded executive properties with manicured gardens and luxurious outdoor areas. The neighbourhood's share of Oakville's vacant land is perfect for new custom builds, while some of Morrison's original '60s and '70s homes have been extensively renovated. The market south of Lakeshore Road comes at a premium, with prices ranging from $8 million to over $20 million for some of the most jaw-dropping lakefront estates. North of Lakeshore Road, prices are slightly lower, ranging from $2.5 million to around $8 million.
Morrison offers some great amenities, such as Oakville Trafalgar High School, one of the most well-known public schools in Ontario, and Oakville Place, the biggest mall in the area. Another local gem is Gairloch Gardens, which includes the 11-acre Gairdner Estate (now a public park) and the Oakville Galleries located within the grounds. Morrison is also home to numerous parks, services and an eclectic selection of shops and restaurants.
Morrison Amenities
Ennisclare Park
Whole Foods Market
E.J. James Public School
St. Mildred's Lightbourn School
Chartwell House Early Learning Centre
Harpers Landing Restaurant
Other Expensive Oakville Neighbourhoods
Some of Oakville's most expensive neighbourhoods are predictably also on the list of best neighbourhoods. These communities are so great that they deserve to be mentioned a second time:
Old Oakville - Enjoy the city's walkable downtown with easy access to public transit, shopping, and dining.
Clearview - Live in this beautiful community with calm, winding streets and leafy park trails.
Bronte - Residents love the luxury homes near Lake Ontario's shores in this neighbourhood, which is made up of Bronte East and Bronte West.
Which Oakville Neighbourhood Will You Live In?
Oakville is a treasure trove of exceptional neighbourhoods that offer the perfect blend of beauty, convenience, and quality of life. From the enchanting charm of Old Oakville with its historic downtown and stunning lake views to the luxurious allure of Glen Abbey nestled amidst a renowned golf course, each neighbourhood in Oakville has its own unique character and appeal. With Oakville's best neighbourhoods as your guide, you're sure to find a home that will make you happy for years to come.
Thinking about moving to Oakville? Call Rayo Irani at RE/MAX Aboutowne at (647) 802-2020 to reach a local real estate agent who can help you find your Oakville dream home.