8 Most Expensive Condos in Toronto: Uncover Toronto Luxury Condos
Posted by Rayo Irani on Monday, February 13, 2023 at 12:10:35 PM
By Rayo Irani / February 13, 2023
Comment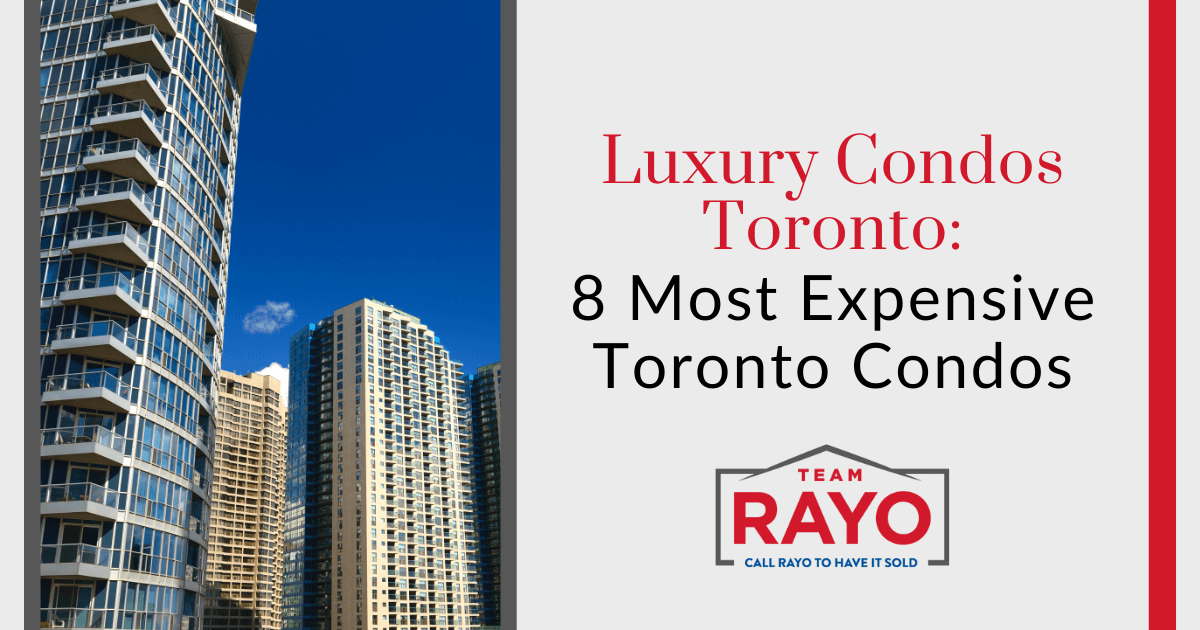 Luxurious condos are never hard to find in the capital of Ontario. Stunning condos for sale in Toronto arrive seemingly every day, leaving home buyers and real estate investors spoiled for choice. Make your hunt for the perfect condo easy by narrowing your search to only the best of the best. Here are the eight most expensive condos in Toronto.
No. 7 Dale
Individuals who favour low-rise living may prefer this community on Dale Avenue. Its beautifully landscaped property features eye-catching trees and flowers. Residents live in a four-storey building with an elegant lobby, designer furnishings, and an impressive fireplace. Its amenities range from sophisticated fitness equipment to a sauna and yoga studio. No. 7 Dale's steam showers and changing rooms boast attractive marble surfaces.
This community has 26 spacious units. Each dwelling spans 2,514 to 5,164 square feet, and most contain two bedrooms and 2.5 baths. These Toronto luxury condos offer picture windows that provide great views of Rosedale Valley. The best home renovations come standard at No. 7 Dale, as most units are equipped with fireplaces, custom millwork, chrome hardware, oak floors, and roomy closets. There's no need to worry about finding a place to park; each condominium owner benefits from two parking spaces. Prices range from around $6 to $18 million.
No. 7 Dale Amenities
Modern infrared sauna
Peloton fitness equipment
Electric vehicle chargers
Attractive flower gardens
Near Summerhill Market
Close to parks and trails
One Bloor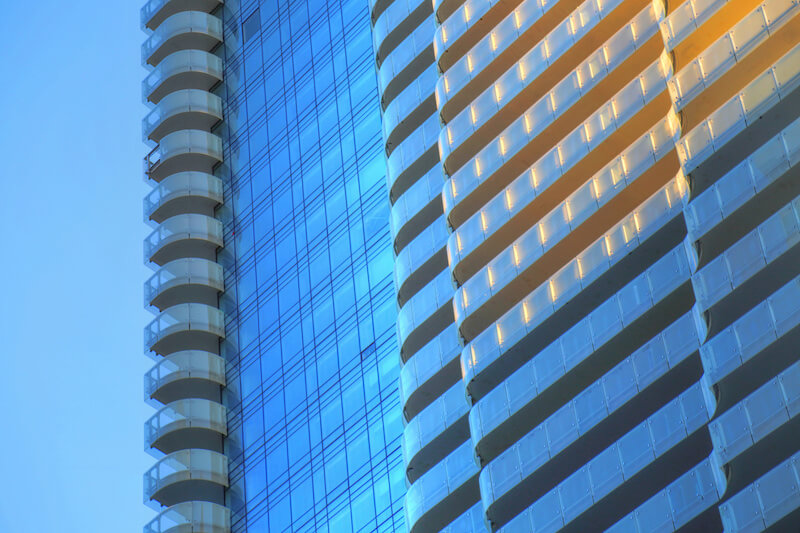 A 76-storey condominium tower at 1 Bloor Street East ranks among the city's tallest structures. It boasts remarkable views of the sky, lake, and skyline. While One Bloor is primarily residential, it has retail space on the bottom floor. The skyscraper also provides a modern fitness centre, spa and indoor swimming pool. Condo owners can relax by the fireplace in a lounge with upscale furnishings. When residents venture outdoors, they find a sculpture garden and swimming pool.
Most of One Bloor's floor plans come from 500 to 1,500 square feet. They become more spacious and opulent near the top floor. These homes generally feature hardwood flooring, tall ceilings that make the condos feel more spacious, Cecconi Simone custom cabinets and high-end kitchen appliances. The bathrooms contain Corian sinks and showers with glass doors. Prices start at around $850,000, and some larger residences cost almost $2 million.
One Bloor Amenities
Gym with amazing views
Outdoor and indoor pools
Lounge with bar, kitchen
Close to subway stations
Near shops and eateries
Shangri-La
The 18th through 66th storeys of Toronto's Shangri-La Hotel consist of luxurious condos. This building in the Entertainment District was constructed in 2012. Although it has a separate lobby for condominium residents, they're welcome to use the hotel's services and common areas. They have access to a gym, yoga room, hot tub, sauna and swimming pool. Owners may request room service as well.
Shangri-La offers nearly 400 suites in various sizes. Each unit supplies about 700 to 4,500 square feet of living space. Many suites have two bedrooms. The features include high ceilings, marble surfaces and custom kitchens. Automatic blinds eliminate the need to adjust window coverings throughout the day manually. These condos come with premium appliances from Sub Zero and Miele. Most suites sell for $1.5 to $4 million, but a few of the most prestigious residences cost up to $12 million. Per standard condo ownership laws, buyers must also pay an association fee.
Shangri-La Amenities
Sauna, hot tub and indoor pool
Housekeeping and valet services
Near fine restaurants and boutiques
Close to galleries and theatres
The Residences at St. Regis Toronto
Condo seekers can find St. Regis Toronto at 311 Bay Street. This skyscraper is located near the Financial District in Old Toronto. It offers a spa, a saltwater swimming pool, and a fitness centre. Owners may sip cocktails in the Astor Lounge or dine at a gourmet restaurant without leaving the building. The staff is committed to upholding the upscale experience of a five-star hotel for condo owners: they serve afternoon tea and open a bottle of champagne with a sabre when the sun goes down.
This community comprises 379 suites ranging from 1,200 to 4,300 square feet. The majority have listing prices between $1.5 and $8.8 million. While a single "Super Penthouse" spans nearly 12,000 square feet on the top three storeys, most units contain one or two bedrooms. They feature Miele appliances, quartz or granite kitchen countertops, radiant heat and electric fireplaces. Well-insulated walls help to minimize noise.
The Residences at St. Regis Toronto Amenities
The spa offers facials and massages
Private local chauffeur service
Near shops, theatres, and galleries
Close to high-end eateries
Four Seasons Private Residences
This condo community in the Yorkville neighbourhood includes a West Tower at 50 Yorkville Avenue and an East Tower at 55 Scollard Street. Residents can use the spa, hot tub, indoor swimming pool, gym and yoga room. They have access to many amenities as Four Seasons hotel guests, such as maid and room services. East Tower condo owners utilize an exclusive resident-only lobby.
These two buildings contain more than 200 units. Generally, the living quarters span 650 to 9,100 square feet. Four Seasons suites have windows that extend from the floors to the ceilings. The height of the ceiling varies, but it's approximately 3.4 meters. Kitchens feature upscale interior design and luxury appliances. While prices range as high as $19 million, many suites cost $3 to $4 million.
Four Seasons Private Residences Amenities
Hot tub and pool
Offers valet parking service
Near groceries and a pharmacy
Close to cafes and fine dining
Easy access to Ramsden Park
Museum House
As its name suggests, this 19-floor building on Bloor Street West is located a very short distance from a museum. The Royal Ontario Museum is across the street from it. This condo building provides chauffeur and valet services as well as a gym. Like the Four Seasons and Shangri-La hotels, it was built in 2012. Museum House's powerful generators ensure that residents don't have to worry about electrical outages.
A single four-bedroom penthouse occupies an entire storey. This tower in Yorkville also contains 26 units with two to three bedrooms. The suites offer about 1,600 to 5,500 square feet of living space. These roomy abodes provide up-to-date kitchen appliances, huge windows and tall ceilings. They have stone and wood floors. Residents also enjoy excellent views from Museum House's stone terraces. Most units sell at prices between $2.1 and $4.7 million.
Museum House Amenities
Private lobby area
Pet-sitting service
Close to a theatre
Near cafes and taverns
Next to a museum
Pier 27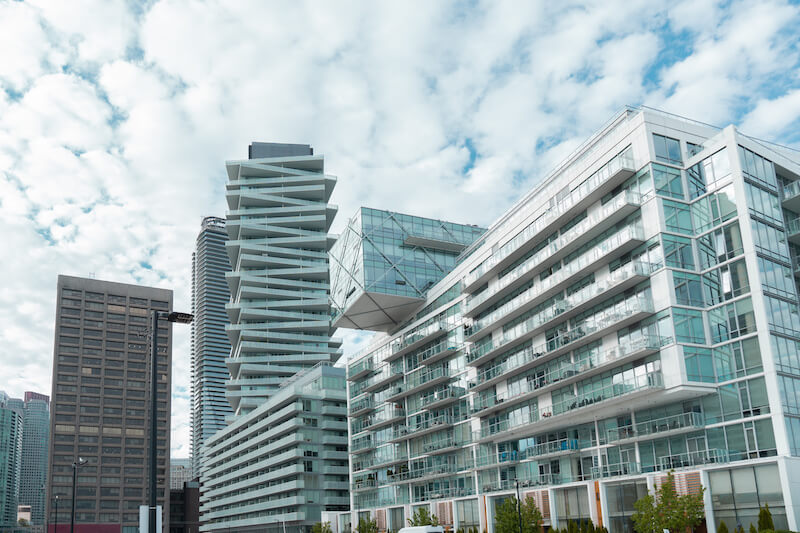 The recently constructed Pier 27 condo community consists of two 12-floor towers at the edge of Lake Ontario. They boast spectacular views, convenient services and top-notch recreation amenities. The courtyard features an outdoor swimming pool. Pier 27 also maintains a spacious party room and fitness centre. Its location on Queens Quay East provides easy access to shopping, dining, entertainment and three mass-transit options.
The towers contain a total of 410 suites with sizes starting at 500 square feet. Many units have one or two bedrooms, and the ceilings typically measure three meters high. Some large condos exceed 2,500 square feet. Residents can keep their vehicles in a parking garage with valet service. Pier 27 offers some of the more affordable high-end condos in Toronto. Prices frequently range from $900,000 to $2 million.
Pier 27 Amenities
Gym and outdoor pool
Visitor parking spaces
Near the Scotiabank Arena
Close to subway, bus stops
Ferry service nearby
Pears on the Avenue
This 20-floor condo tower can be found at 170 Avenue Road in the Annex neighbourhood. The building's modern exterior consists of glass, stone, brick and metal. Pears features an indoor swimming pool as well as a sauna. It also maintains meeting, screening, yoga, fitness and party rooms. The party area includes a bar and kitchen. Residents can access a sun deck and fire pit on the rooftop terrace.
Pears offers 175 suites with tall windows that provide impressive views of Toronto. The ceilings measure 2.74 meters high. Kitchens feature granite and tile surfaces as well as custom cabinets. They typically come with high-end Miele appliances. The bathrooms have tile floors, marble countertops and glass shower doors. Elsewhere in the suites, the flooring consists of wood or deluxe carpeting. Many units sell for amounts in the lower-middle luxury condo price range. They usually fetch $1 to $3.3 million.
Pears on the Avenue Amenities
Opulent guest suite
Stairway and two elevators
Changing rooms and showers
Private indoor pool cabanas
Near shops and restaurants
Close to Yorkville
Make Yourself at Home in a Toronto Luxury Condo
When it comes to luxury real estate in Toronto, there are many reasons to buy a condo instead of a single-family home. The most luxurious condos in Toronto have some things in common, such as 24-hour concierge service and upscale fitness centres. They also differ in numerous ways. People find substantially different suite sizes, prices, styles, materials and services in each building. The ideal choice varies depending on what an individual condo buyer desires. An avid swimmer might choose a community with indoor and outdoor pools. On the other hand, an on-site restaurant and lounge may appeal to someone who likes to socialize. Explore them all to decide which is best for you.