7 Best Golf Courses Near Oakville: Experience Oakville Living
Posted by Rayo Irani on Tuesday, August 15, 2023 at 12:27:55 PM
By Rayo Irani / August 15, 2023
Comment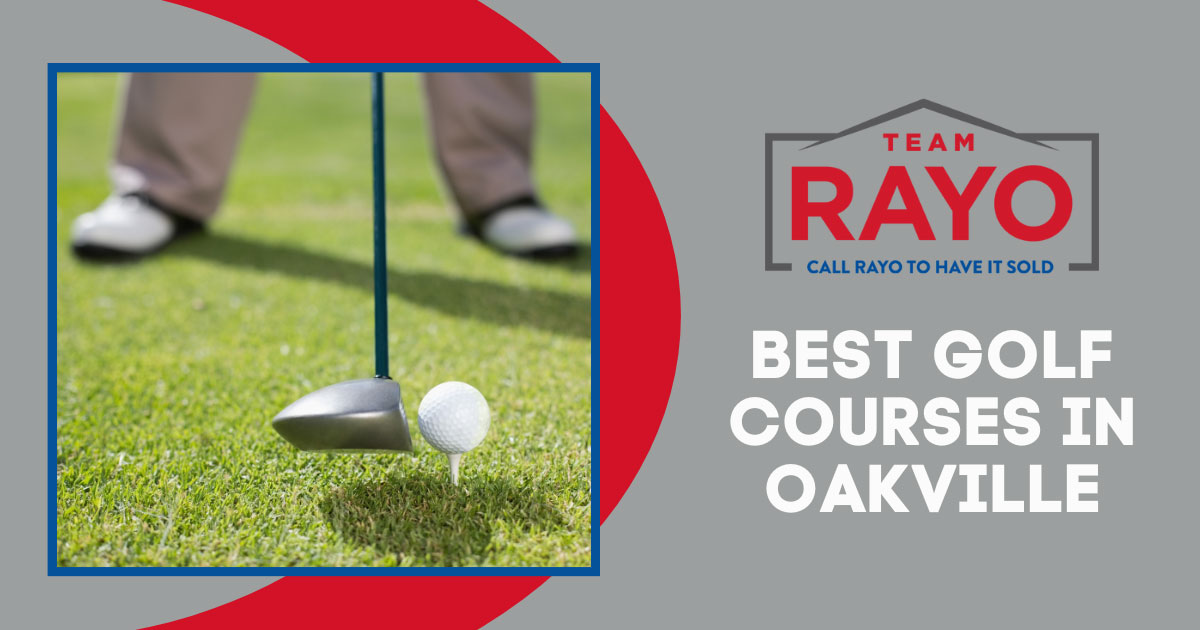 Are you a golf enthusiast looking to enjoy an unforgettable game of golf? Look no further than the city of Oakville, Ontario.
With numerous prestigious courses, people living in Oakville are in the perfect location for a unique and challenging golfing experience. From Glen Abbey, home of the Canadian Open, to Mount Nemo Golf Club and its stunning views, Oakville has something to offer everyone.
Whether you're an experienced golfer or just getting started in the game, these courses are sure to provide an exciting challenge and make you feel right at home. Discover the best golf courses near Oakville and tee off.
Glen Abbey
At Glen Abbey, you can experience world-class golfing, complete with the 'Eighteen' restaurant—all just a stone's throw away from Oakville. The Glen Abbey course was designed by renowned golfer Jack Nicklaus.
Here you will find lush fairways and fast greens that make for an enjoyable round of golf. The Club is also home to some of Canada's most renowned facilities, such as Golf Canada's headquarters, the Canadian Golf Museum and Hall of Fame, and the TaylorMade Performance Lab.
When it comes to dining, Glen Abbey has something for everyone. From traditional pub fare to fine dining experiences in their exquisite 'Eighteen' restaurant, there is something here to suit any taste. The clubhouse facility also offers banquet rooms for special occasions and seminars that are perfect for business meetings or private events.
Glen Abbey provides a unique opportunity to experience world-class golfing. With its stunning facilities and top-notch amenities, it's no wonder why this Club has been chosen as the host site for the RBC Canadian Open on 30 separate occasions. So come see what all the fuss is about—Glen Abbey awaits!
Oakville Golf Club
Oakville Golf Club boasts a no tee time policy, a stunning course featuring old-growth forests, beautiful trees, and meticulously groomed sand traps.
At the Oakville Golf Club, you can enjoy:
A challenging yet enjoyable golf experience with long par 4s and a slope rating of 131
Quick nine-hole games that take less than two hours
The chance to explore different tee locations when playing a full 18 holes
A tranquil escape from urban surroundings situated in the heart of Oakville
The club is renowned and has even hosted the Toronto Star Women's Amateur Golf Tournament in 2015—making it an ideal location for pros and aspiring golfers alike. Visit the Oakville Golf Club for an unforgettable experience.
RattleSnake Point Golf Club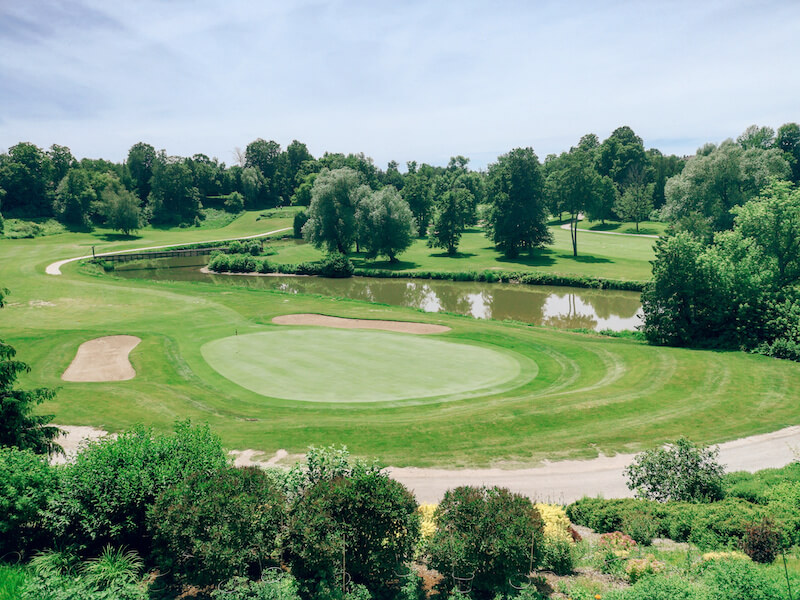 Experience Thomas McBroom's creative design and strategic brilliance at RattleSnake Point Golf Club.
The RattleSnack Point Golf Club offers 36 championship holes, a nine-hole Rattler Academy Course, and an advanced practice facility.
The two courses—CopperHead and SideWinder—were designed to challenge golfers of all levels with their undulating terrain, water ponds and creeks, imposing bunkers, and five sets of tee decks. To make the most of your round, be sure to take in the stunning views along the way.
The lavish clubhouse is perfect for both grand banquets and conferences as well as smaller events or meetings. After a round, why not relax on the terrace overlooking the courses and sample some of the exceptional cuisine offered by RattleSnake Point's renowned restaurant? Enjoy an atmosphere that caters to golf enthusiasts.
RattleSnake Point has earned its reputation as one of Ontario's most prestigious golf clubs by hosting esteemed tournaments like the Canadian PGA Seniors' Championship in 2010. It is also a regular qualifying venue for the PGA Tour's RBC Canadian Open—so don't miss out on this unforgettable experience.
Angel's View at Oakville Executive Golf Course
Test your skills and enjoy a memorable round at Angel's View Golf Course, one of the two courses at Oakville Executive Golf Course. At Angel's View, you can take on the signature 465-yard 7th hole—one of the longest par-5s around. Experience challenge and reward without compromising time with five par-4s, two par-3s, and two par-5s.
Here are some highlights that make this course spectacular:
A pond 300 yards away from the tee adds an extra layer of difficulty
Strategically placed bunkers to test your skill
Views of Sixteen Mile Creek that will leave you in awe
A signature 7th hole that will ignite excitement in golfers of all abilities
There's something for everyone at Angel's View. Whether you're a beginner just learning the basics, or an experienced golfer looking for a challenge, you'll love what this course offers. So come out and give it a shot—you won't regret it.
Piper's Heath Golf Club
Come and discover the unique old-world charm of Piper's Heath Golf Club. Piper's Heath Golf Club is set in the heart of the Greater Toronto Area.
This picturesque golf course offers a stunning 18 holes and an unforgettable experience for golfers of all levels. Designed by renowned architect Graham Cooke, each hole provides a sanctuary where you can feel at one with nature and truly appreciate its beauty.
The course spans 5,200 to 7,054 yards with a par 72, allowing players to choose their own challenge. You'll feel as if you've been transported back in time as you make your way around this breathtaking landscape. With its unmatched views and peaceful atmosphere, Piper's Heath Golf Club is truly a golfer's paradise.
Whether you're looking for an enjoyable game with friends, or a competitive round with other passionate players, Piper's Heath Golf Club has something for everyone. Experience the majestic beauty of this remarkable course today—there's nothing quite like it.
Mount Nemo Golf Club
At Mount Nemo Golf Club, you'll be playing through sweeping terrain like a master artist creating a masterpiece. The lush fairways and strategic bunkers provide an unforgettable golfing experience.
The course is an 18-hole championship layout that offers breathtaking views of the surrounding landscape, as well as rolling terrain, tree-lined fairways, and enticingly challenging water hazards.
You'll find everything you need to enjoy your day at the clubhouse, from a fully stocked Pro Shop to a bar and patios where you can quench your thirst. With its exceptional design and unparalleled amenities, Mount Nemo Golf Club is sure to provide you with a memorable golfing experience.
Millcroft Golf Club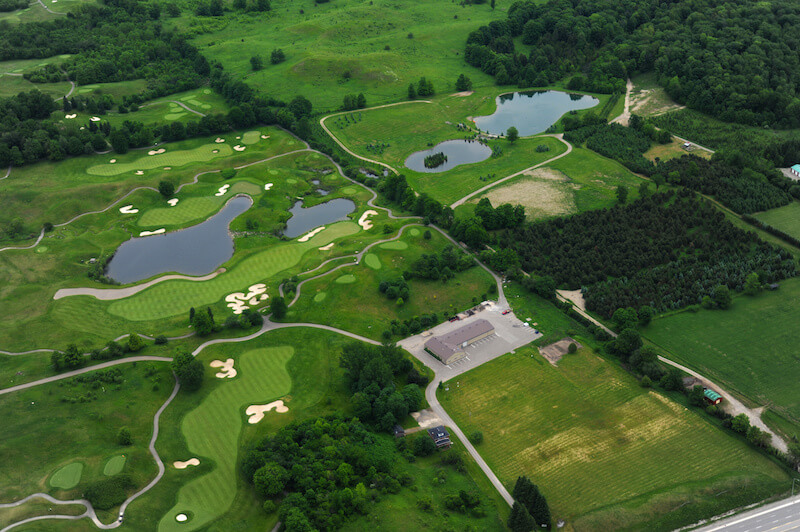 Experience an unforgettable golfing adventure at Millcroft Golf Club, where you'll find a perfect blend of challenging elements and serene scenery to challenge your skills. Put your accuracy to the test as you navigate fairways, water hazards, and sand traps. The Millcroft Golf Course course caters to golfers of all abilities, so everyone is sure to have a great time.
Here are some features that make Millcroft stand out:
No parallel fairways
Dedicated marshals are available seven days a week
Exceptional service and welcoming atmosphere
Millcroft has everything you need for an amazing game of golf—from its beautiful layout to its attentive staff that will ensure a pleasant pace of play.
Whether you are looking for a competitive round or just want to relax with friends on the green, Millcroft provides an unforgettable experience for all skill levels.
Golf Course Communities Near Oakville, ON
Oakville, a charming town in Ontario, Canada, boasts several golf course communities and communities near golf courses that offer a delightful living experience. Among these communities are the following:
Each community has its own distinct features and allure, catering to various preferences and lifestyles. From the prestigious Glen Abbey with its renowned golf course to the atmosphere of College Park, residents have the opportunity to immerse themselves in a golf-centric lifestyle surrounded by the beauty of Oakville's landscapes.
Whether seeking tranquility in River Oaks or a balance of convenience and comfort in West Oak Trails, these golf course communities provide an ideal setting for individuals and households to enjoy the charm and amenities that Oakville has to offer.
Tee Off at an Oakville Golf Course Today
With these amazing golf courses near Oakville, Ontario, you can find the perfect course for any skill level. From the challenging layouts to the awe-inspiring views, each course holds its unique charm, waiting to be explored by golf enthusiasts of all ages.
So, grab your clubs, embrace the tranquil atmosphere, and embark on an unforgettable journey through Oakville's best golf courses. Immerse yourself in the game, surrounded by nature's splendor, and let the fairways guide you towards a golfing adventure you'll cherish for a lifetime. Oakville, Ontario welcomes golfers with open arms!
Thinking about moving to Oakville? Call Rayo Irani at RE/MAX Aboutowne at (647) 802-2020 to reach a local real estate agent who can help you find your Oakville dream home.