Best of Both Worlds: Learn What a Townhouse is & the Advantages of Townhouse Living
Posted by Rayo Irani on Monday, May 1, 2023 at 12:49:13 PM
By Rayo Irani / May 1, 2023
Comment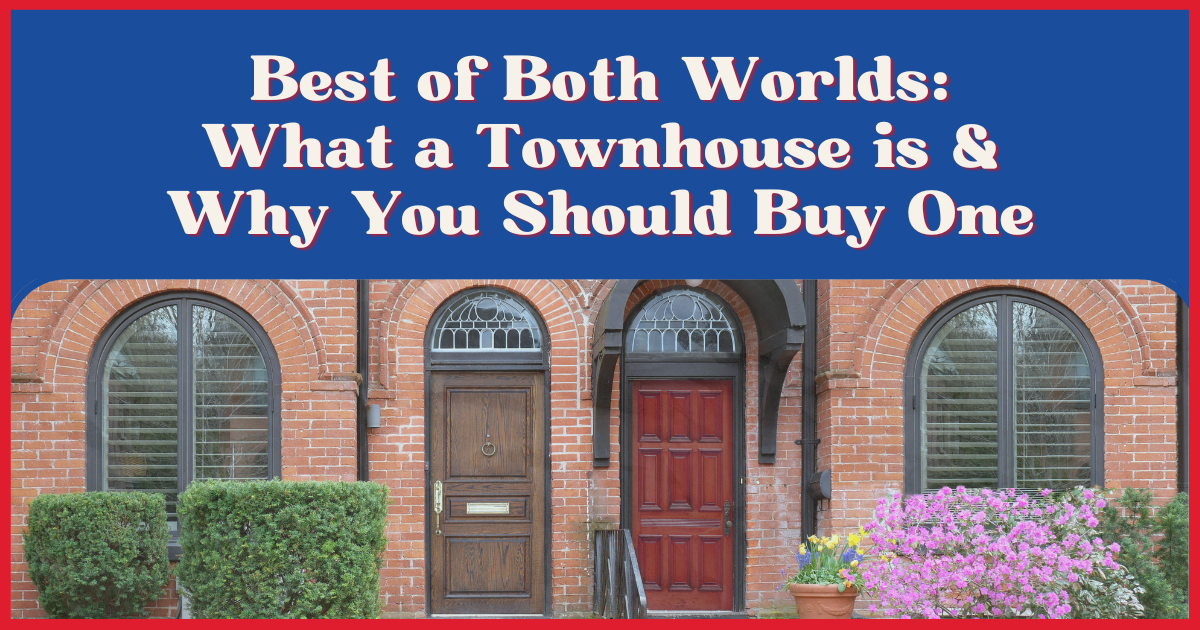 Are you in the market for a new home but not sure what type of property to buy? Looking into townhomes might be a great middle-ground if you're looking for more privacy and flexibility than an apartment but without the responsibilities of a single-family home. A townhouse gives residents a sense of community while still allowing them to maintain their privacy. Buying a townhouse could be the perfect choice for you, from the benefits of shared amenities to the potential for higher resale value. Whether you're a first-time homebuyer or a seasoned property owner, discover why a townhouse might be the perfect fit for your lifestyle and budget.
What is a Townhouse?
A townhouse is a multi-story building with shared walls that combines the benefits of single-family homes and condos. Townhouses offer a distinct blend of private and community living, making them an attractive option for many. Townhouses are usually built in rows or clusters, sharing common walls with neighbouring units. They often have their own front door leading directly to the street or a shared courtyard area. Unlike apartments, which are stacked vertically within larger buildings, townhouses offer more privacy by providing separate entrances and limited shared spaces.
Types of Townhomes & Maintenance Considerations
Freehold Townhouse: A freehold townhouse is much more like a single-family than other townhome types. With a freehold, the owner of the property owns and is responsible for the exterior and land that the townhome is on.
Condominium Townhouse: A condominium townhouse typically means that the owner technically just owns the interior of the apartment. The exterior, as well as any community-shared amenities and structures, are maintained through the payment of maintenance fees paid by residents.
Insurance Considerations
When it comes to homeowners insurance, townhouses generally fall between single-family homes and condos in terms of coverage requirements and expenses. If you own both the interior and exterior of your unit, you'll need to have adequate insurance for both aspects. It's crucial to work closely with your insurance agent or broker to ensure that your policy covers all necessary components unique to townhouse living.
Reasons to Buy a Townhouse
Purchasing a townhouse presents many advantages that make it an attractive option for home buyers. Some of these advantages include:
More Privacy than Apartments: Unlike apartments, townhouses offer more privacy as they typically have fewer shared walls and separate entrances. This means less noise from neighbours and more personal space.
Lower Maintenance Costs: One of the biggest perks of owning a townhouse is that maintenance costs are generally lower compared to single-family homes. With exterior maintenance often taken care of by the community, you can save both time and money on tasks like lawn care, snow removal, and exterior repairs.
Potential for Rental Income: If you're looking for real estate investments or want some extra income, renting out your townhouse can be an excellent option. The demand for rental properties remains high due, and investing in a well-located townhouse could provide steady rental income over time.
Affordability: In comparison to detached houses or semi-detached homes, townhouses tend to be more affordable options for homebuyers who still want more privacy but don't want to buy a house. This makes them especially appealing to first-time buyers or those looking to downsize without sacrificing too much space or comfort.
Amenities & Community Living: Many townhome communities come with shared amenities such as pools, fitness centers, and playgrounds. Socializing with neighbours and building a sense of community are some of the perks that come along with shared amenities.
Factors to Consider When Buying a Townhouse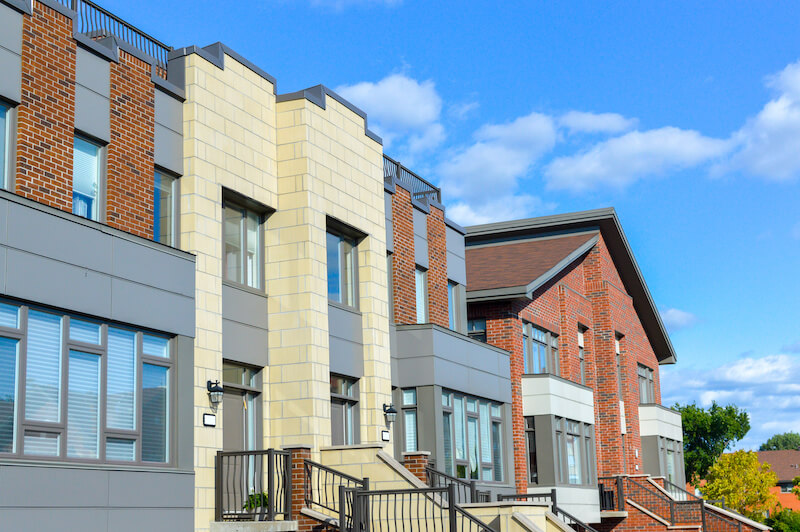 When buying a townhouse, it's important to consider various factors that can impact your living experience and the property's value. Here are some key aspects you should take into account before making your decision:
Location
The location of the townhouse is crucial as it affects not only your daily life but also its resale value. Thankfully, townhomes usually offer you a less expensive way to live near areas you frequent, so you should consider commute times during your home search. Look for properties in neighbourhoods with good schools, easy access to public transportation, shopping centers, parks, and other amenities that suit your lifestyle.
Size and Layout
Examine the size and configuration of the townhouse to determine if it meets your current and future requirements. Consider factors such as bedroom count, storage space availability, and outdoor areas like balconies or patios if desired.
Amenities
Determine what community amenities are available within the complex or nearby neighbourhood—these may include swimming pools, fitness centers, and playgrounds which can enhance your living experience. These amenities also help when marketing your home to potential buyers down the line.
Parking and Storage
Consider whether the townhouse comes with adequate parking spaces for you and any guests, as well as storage options like garages or basements if needed. This is especially important in urban areas where street parking may be limited.
Resale Potential
Evaluate the potential resale value of the townhouse by researching comparable properties in the area, considering factors such as appreciation rates, market trends, and plans for future developments nearby. Analyzing the potential of your townhouse to appreciate over time can ensure a profitable investment.
Tips for Buying a Townhouse
Before making a townhouse purchase, it's important to know what to look for and inquire about to make sure you're choosing the right property for you. Here are some valuable tips that can help you navigate the process of purchasing your dream townhouse:
Research the area thoroughly: Before making an offer on a property, take time to research the neighbourhood and surrounding areas. Look into factors such as schools, parks, public transportation options, and nearby amenities like grocery stores and restaurants.
Get pre-approved for financing: Obtaining pre-approval from a mortgage lender will give you an idea of how much you can afford when searching for townhomes. This not only helps narrow down your search but also shows sellers that you're serious about purchasing their property.
Hire an experienced real estate agent: Working with a knowledgeable real estate agent who specializes in townhouses is crucial when navigating through this competitive market. They'll have access to listings before they hit the market and provide invaluable advice throughout the entire home-buying process.
Inquire about future development plans: It's important to know if there are any planned developments near your desired location that could impact your property value or quality of life. Ask your real estate agent about any planned developments in the area that could affect property value or quality of life.
Inspect the property: Before finalizing a purchase, always have a professional home inspection conducted to identify potential issues that may need addressing. You can't afford to skip a house inspection, as they can save you from costly repairs down the line and ensure you're making an informed decision when buying your townhouse.
Understand your monthly payments: When determining your monthly expenses, don't overlook things like maintenance fees, insurance, groceries, taxes, and more. It helps to use a household budget worksheet to make sure you aren't overlooking any expenses.
Consider a Townhouse
Buying a townhouse can offer a unique blend of privacy and community that is ideal for many homebuyers. With shared amenities, the potential for increased resale value, and a range of styles and sizes to choose from, there's sure to be a townhouse that fits your needs and preferences. If you're in the market for a new home, consider the many advantages of owning a townhouse and start your search today.